Extreme Reading Winner
Extreme Reading Winner
21 September 2020 (by Catherine Ide (c.ide))
Extreme Reading Challenge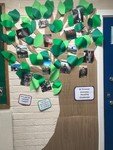 Congratulations to Zachary, Year 4, for winning the Extreme Reading Competition.
W
ell done to everyone who entered! We have entries from people reading in caves, on roller coasters, at the park, up mountains and up poles.
If children would like to send in an Extreme Reading photograph, they can still share their adventures and be added to our Extreme Reading tree that is in the corridor opposite the rainbow room.