About our school
An Introduction to St Thomas' School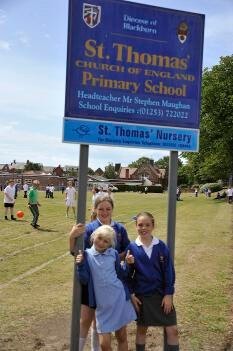 St Thomas' Church of England Aided Primary School is situated on one site about half a mile away from the seashore. Originally established in 1901 and extended in four further phases up to 2001 the building is a delightful blend of architectural styles ranging from a large modernised Victorian hall to a very modern classroom block. There are eight good sized classrooms, an ICT suite and a large library which has recently refurbished. The grounds are extensive, comprising of two playgrounds, sizeable playing field and large lawned areas.
The school has a Church of England foundation which which is part of the community of the Parish Church of St Thomas, with which there are close and valued links. The Governors of the school appoint the staff and are responsible for the repair and maintenance of the building.
As St Thomas' is a church school, the staff are concerned that the children should grow up as faithful and practising Christians. We wish our school to be a place where Christian attitudes to life are both taught and lived in a way that produces a strongly based community spirit within the school and beyond.
The teaching staff are experienced and committed to the school. They employ a range of styles to enable the children to achieve the highest levels in all subjects. We believe that education extends beyond the academic to the development of the whole child in preparation for life not only as a secondary school pupil but also as an adult.
About Our Day
Children are allowed into school from 8:45am. They should not arrive at school before then because the main gates are not opened until this time.
School Gate Opens - 1st Bell

8:45am

Second Bell -

8:55am

Morning worship

9:05am - 9:20am

Class Time

9:20am -10:30am

Morning Break

10:30am - 10:45am

Class Time

10:45am - 12:00pm (Key Stage 1)

10:45am - 12:10pm (Key Stage 2)

Lunchtime

12:00pm - 1:10pm (Key Stage 1)

12:10pm - 1:10pm (Key Stage 2)

Classtime

1:10pm - 2:10pm

Afternoon Break

2:10pm - 2:25pm (Key Stage 1)

2:10pm - 2:20pm (Key Stage 2)

Class Time

2:20pm/2:25pm - 3:20pm

If your child arrives late, i.e. after 8:55am or after 1:10pm, a late card is given to the child. This is handed to the class teacher who records a late mark in the register. Parents must report to the school office with children who are late, as they need to be included on Dinner Registers, etc. Repeated lateness will be monitored and discussed with parents. If it is considered an ongoing problem, the Headteacher may take further action- as we consider full attendance vital for a good education.
Children should be collected promptly from school at 3:20pm, unless they are involved in pre-arranged after-school activities.
Key Stage 1 parents can collect their children from the classroom door whilst Key Stage 2 parents should wait at the pedestrian gate or on the infant playground.