WELCOME TO THE YEAR 5 PAGE. OUR GOSPEL VALUE IS RESPECT.
WELCOME
This is Year 5's page. Here you will find out more about what we have been doing in class.
Class teacher: Miss H Hindle (PE and PSHE lead)
T.A.: Mrs B Sayer, HLTA
Mrs Stones will teach the class on a Tuesday morning.
PE days are Tuesdays and Fridays, although PE kits can be kept in lockers just in case.
Homework will be given weekly and children will be made fully aware of the deadline. To supplement homework children should read at home regularly as well as access Bug Club (passwords in yellow books) or TT Rockstars (also in yellow books).
Autumn 1
This half term our topic is Amazon adventure.
Geography- we will learn some of the features of the Amazon basin with a specific look at the the Amazon rainforest. We will look at the layers of the rainforest and look at some of the animals who live there.
Science- this half term we start to look at life cycles of animals from the rainforest and we compare them to animals we can find in our environment. This involves some pond dipping.
Art- printing in the style of William Morris, a Victorian printer/artist who used botanical prints in his work.
PE- Gymnastics and Invasion games.
Music- I follow charanga music. This half term we are livin' on a prayer.
RE- The Bible.
PSHE- I am a risk taker!
English- Stories from other cultures and debates.
Other cool events/things to note: Samba drumming 3rd Oct. Blue Moose Dance 17th Oct. Glow in the dark dodgeball comp 10th Oct.
Mental health day 2019.
This year we supported young minds charity and we all wore yellow for the day. The usual blue was replaced with a sea of yellow with us all donating £1 to help raise awareness. In year 5 we talked about anxiety and our worries. We also looked at ways to combat "feeling down" and did some mindfulness activities. Take a look at some pictures from the day.
Glow festival 2019
We were invited to take part in a glow in the dark dodgeball festival. We dressed in neon and even painted our faces. We had a fantastic day. Check out some of the pictures.
Blue Moose 2019
We were lucky enough to welcome Zanna from Blue Moose for our day of dance. The theme was Superheroes and they had a fab time as you can see from these pictures.
Autumn 2
This half term is another exciting one which will lead us nicely up to Christmas. This half term we will be looking at A Kingdom United.
English: We start the half term looking at persuasive writing in the form of adverts. In the second half we will be delving into British Legends.
Science: We are starting a topic on materials which will continue into next half term also.
History: Britain Since 1930 is our History unit and we look at everything from the start of WW2, to the Hits of the 1990's.
Geography: The UK and is capitals, counties and main landmarks.
Music: Following Charanga we will be composing our own Christmas songs.
PE: Tuesday with Mrs Stone is unit 2 of gymnastics and I will be doing Hockey on a Friday outdoors weather permitting.
PSHE: Friendship linked to visit from the life bus on November 20th.
TT Rockstar day 2019
We kicked off the 2nd half of this term in style, dressing up as rockstars for the day to launch TT Rockstars. We only managed to get a few pics on the iPad as we were having far too much fun.
Indoor Athletics 2019
Miss Hindle took a mix of Year 5 and 6 to the annual St Anne's schools Indoor Athletics comp in November. We finished last in our heat and 8th overall but we had a brilliant time as you can see from these pictures. We look forward to taking part again next school year.
Aldi sports equipment for schools 2019
This year we have been busy collecting the Aldi stickers for their promotion which will win us some free sports equipment for school and also the chance to win £20,000 for school. These girls have been sticking them on the posters for weeks now and we are finally ready to send our entry. FINGERS CROSSED!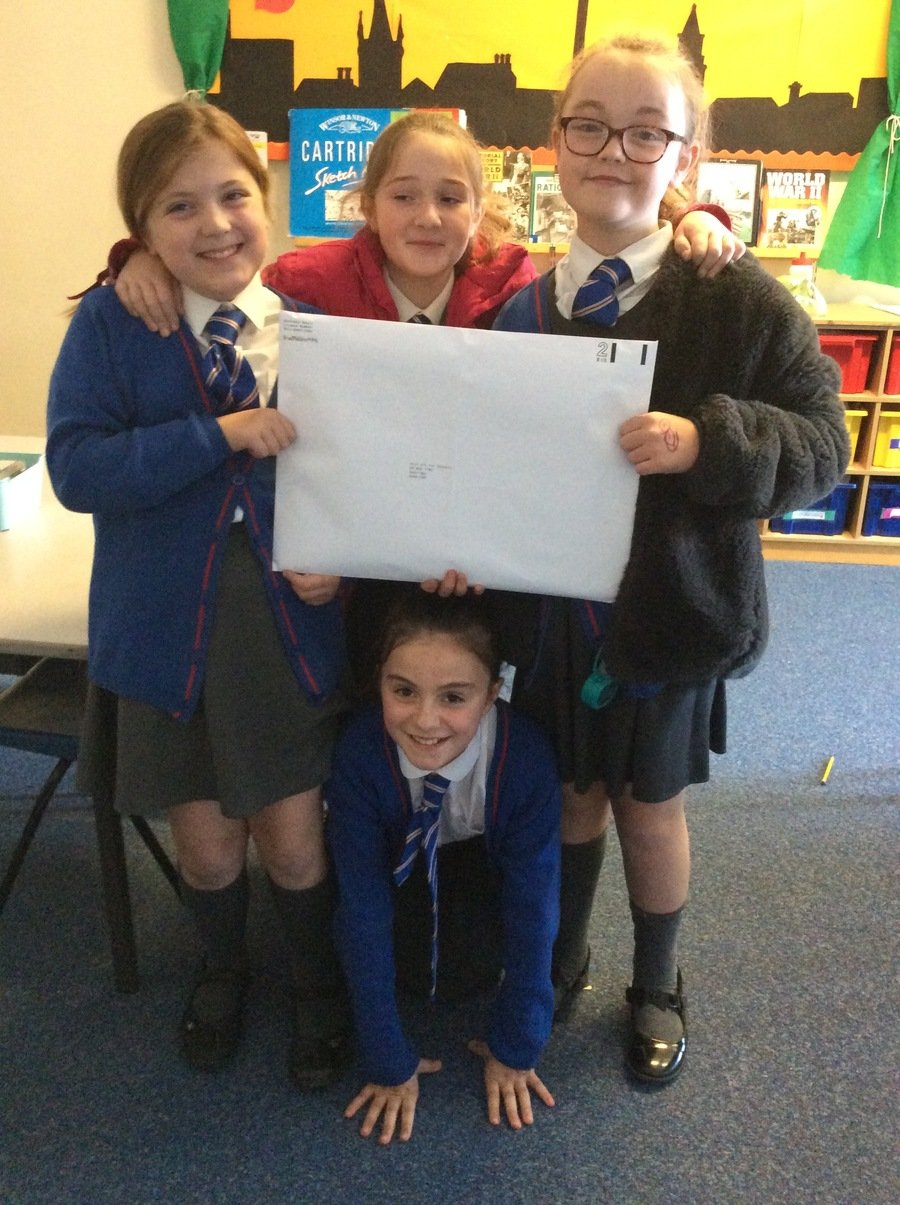 Pop Art
As part of our History we researched the 1950s. We found that Pop Art was first made in the 1950s and were really interested in finding out more. Miss Hindle cancelled music for once (sorry Mrs Palmer) and we created some Pop Art of our own. It looks fantastic on display in the corridor come check it out. Some of us worked in pairs :). We even watched some Attenborough while we did it....a lovely relaxing afternoon in Year 5.
PICTURE NEWS
Year 6 will be joining us for picture news every other week on a Thursday morning. This week we discussed that during this years rugby World Cup England players were fined for crossing the centre line during New Zealand's Haka. We talked about the history of the Haka and it's origins and decided that this was the right thing to do as the players had disrespected the culture of the players, as well as rugby rules (which state that they mustn't cross the line until the whistle is blown). We actually found that England were not the first team to show such disrespect. We linked this back to our school and British Values and decided that cultural respect is a two way street. We must respect the cultures of others if we want them to respect ours.
Children In Need 2019
This year we raised money for children in need by coming to school in our PJs or yellow for a £1 donation. We also all had the chance to take part in the Joe Wicks Workout to get us all moving. Back in class we made Pudsey Pop Art and did quizzes. Look at how much fun we had.
Outdoor Science
We took advantage of some good weather and got outside for a Science experiment. Last half term we looked at the Amazon Rainforest and discovered that although the name suggests it is constantly raining, this is not the case. The Rainforest does however stay humid. Did you know that plants only use 85% of the water they "drink". The other 15% is lost through the plant transpiring, this is the plant equivalent of sweating and it can be seen hear in these images from our own playground. The process is called Transpiration and it's what makes the rainforest stay humid all the time.
Year 5 and 6 Girls Football.
We have a fab group of girls at St Thomas', who play rain or shine. We braved the cold this half term to take part in the local schools girls football tournament. We played fantastically making Miss Hindle and Churchy very proud.
1980s and 1990s.
This week we were looking at the 80s and 90s. We had an afternoon playing with gadgets from the time. Miss Hindle found it very amusing that we struggled to play a CD on a CD player. We even had some break dancing. After, we all picked our favourite "artefact" and wrote about it. Fun was had by all take a look.