Transition booklets Yr4-Yr5
60 Second Reads - reading comprehension challenges.
Eco bottle letter for returning to school in September.
Health and wellbeing challenges.
Maths home schooling (Summer 2 term, week 6).
Maths home schooling (Summer 2 term, week 5).
Maths home schooling (Summer 2 term, week 4).
English home schooling plans.
Some home schooling and Virtual Sports Day antics.
A maths mystery challenge to solve!
Homeschooling SPaG challenges.
Home schooling Science (Summer 2 Term)
Home-schooling Topic Web - Summer 2 Term.
Online safety information for parents.
Don't forget to access BugClub (activelearnprimary) as more books have been allocated to those that require them.
Keep practising your spellings! You could: create a wordsearch, 'pyramid words,' 'find the word,' 'Graffiti Art' and use dictionaries to find the definitions. Remember all of the ways we learn spellings in your Spelling Journals.
'Graffiti Art Handwriting' linked to our spellings!
Rocket Visit!
An amazing day seeing a decommissioned rocket! We have thoroughly enjoyed our space themed day learning about the order of the planets, investigating if the size of meteorite affects the size of the craters created, looking at objects that an astronaut might use (we even held a meteorite from China and Tektites from Australia!), creating our own rockets and launching them! And finally, watching two larger rockets being blasted up into the air! Out of this World!!!
World Book Day March 2020
An afternoon of enhancing our sewing skills in DT. We hope you spot our sewing skills on your Mothering Sunday cards.
Eureka Children's Museum January 2020.
A fabulous day out learning more about digestion, teeth and lots more 'sciency stuff!'
Mental Maths Mayhem!
We applied our mapping skills to locate and answer various maths questions around the school grounds. Lots of fun!
'From the chew to the poo!'
Super science, working through the human digestive system. Yuck!
Thank you for all of the contributions of fruit and vegetables!
We arranged these in our art lesson, into a still life in the style of the artist Giuseppe Arcimboldo.
We will go on to develop our observational skills by drawing the fruit and vegetables, including the inside of them! After that, we will use pastels, charcoal and paint to add colour.
December 2019
In Geography we have been learning about mapping skills. We created our own maps of the school grounds, including four-figure grid references. We created 'jigsaw puzzle' pieces to put on our maps and for other groups to find, using our six-figure grid reference clues.
What a lot of fun!
Christmas treasure hunt fun around school with Year 1!
A fabulous morning watching Horrible Histories at the Winter Gardens.
November 2019
We have also been litter picking in school!
We will endeavour to look after our local environment and our world!
Every little bit helps! Superstars!
November 2019
A fantastic afternoon, following on from the morning beach clean.
The children had to read maps to navigate around St Annes.
3 groups went off to cafe owners to persuade them to be on board with the ReFill campaign, allowing people to take their water bottles into the establishments and fill up for free (in turn reducing the number of single use plastics in our oceans).
2 groups revisited cafes that were on board from last year and completed questionnaires, finding out how successful it had been.
Fantastic work Year 4!
November 2019
As part of our Geography topic on recycling and caring for our environment, we met with the Fylde Beach Officer on St Anne's beach.
We picked litter off the beach and were very pleased that there wasn't a lot of litter about (thanks to weekly volunteers).
Unfortunately, we were shocked to see how much litter was coming in on the incoming tide! We were also surprised about the number of washed up jellyfish!
We were sad to see that all of our community are not yet responsible dog owners.
November 2019.
It was lovely to welcome family members to our class, to help us sew our Christmas decorations. We had a lovely afternoon.
Thank you for all of your help!
November 2019
We planted saplings in our school grounds. Let's watch them grow! Another small way that we can help in the fight against climate change.
Life Education Bus November 2019
A super morning in the Life Bus enhancing our PSHE curriculum. We learnt about being physically healthy and mentally healthy with the help of 'Harold the giraffe' and his friends.
Dancing with the Blue Moose Dance Company (October 2019).
We had a fabulous dance session pretending to be superheroes and turning these actions into dance sequences.
Design Technology (November 2019)
Fabulous problem solving when creating our 'Chair O Matic' fairground rides. We had to use our science knowledge of electrical circuits, be precise when measuring, cut wood using Junior Hacksaws and fix things when they didn't work! We had lots of fun when we got them spinning around (not too fast though, otherwise we lost our 'passengers!'). It was even important to make sure that we had the right size of elastic band!
18-10-19
We've watched a video today from Network Rail reminding us to be safe over the half term holidays and stay away from the railway tracks.
Remember- STOP, LOOK, LISTEN, LIVE!
Thank-you to all parents who helped their child make a rain gauge. This will help us make scientific observations throughout the year. You will see these water gauges around our school grounds.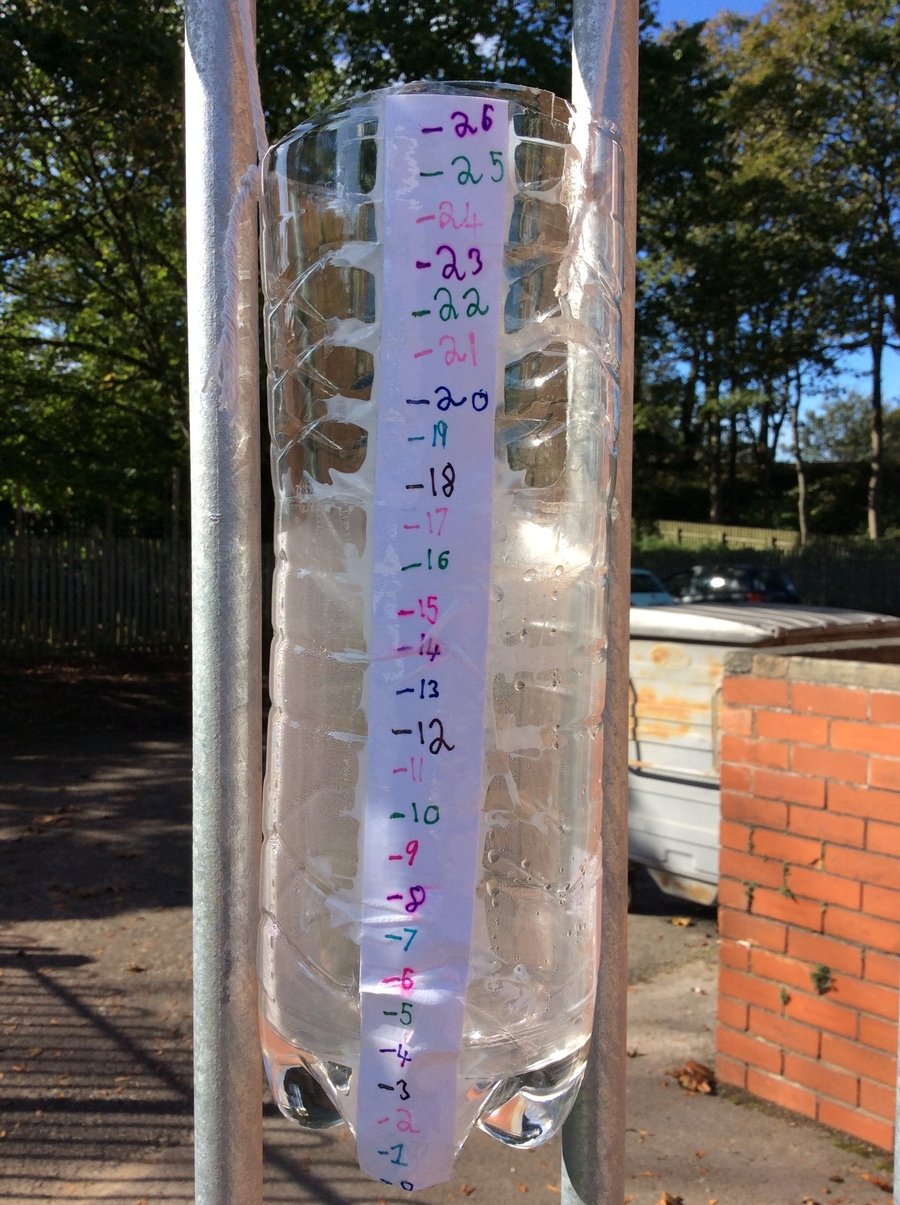 Heysham Power Station October 2019
A fabulous day at Heysham Power Station applying science knowledge of electricity learnt in class, to nuclear power and how it is made and sent to homes across England.
European Languages Day 2019
What a super day learning Italian! We made our own pizza dough and tomato sauce. Lots of fun was had creating Italian booklets, finding out where Italy is in Europe, the colours of the Italian flag, Italian greetings, numbers, days of the week and fun facts.
The best bit was eating the pizzas that we had made. Yum!
History assembly.
(September 2019) A fabulous assembly giving an insight to all of the history taught in our school, from Reception class up to Year 6.
We learnt key ideas about kings, queens, wars, plagues, from the Stone Age to the present day!
Alice In Wonderland.
September 2019 - A wonderful visit from 'Initiate Theatre Company' to inspire our writing.
Please practise telling the time to 1 minute intervals with your child. We have been learning how to convert time to 12hr and 24hr digital time.
Remind/ask your child times of their daily routine.
In Year 4 we learn to read, write and convert between analogue and digital time (12hour and 24hour), including converting between hours/minutes, minutes/seconds, years/months, weeks to days.
It is expected that children already know how to tell the time to 1 minute intervals by now.
We are listening to a song to help us with this:
https://www.youtube.com/watch?v=bZD_BhtiXuU
Please help us by asking your child to convert between different units of time, how many days in a month etc.
Welcome to Year Four!
Teacher: Mrs Farrar.
Teaching Assistant: Mrs Fox
PPA cover: Mrs Stones (Tuesday afternoon).
Class Governor: Mr Bennett.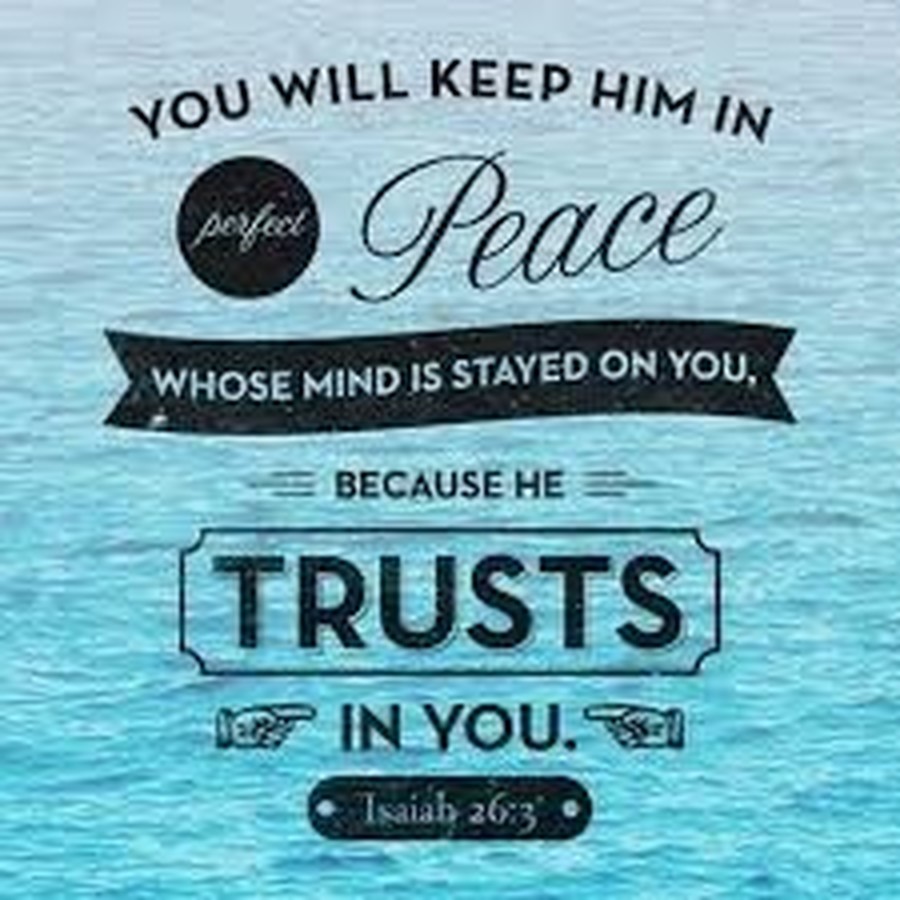 Our Year Four superheroes are aspiring to have superhero mindsets to achieve their potential and follow all of our school Gospel Values.
In Year Four we investigate further our Gospel Value of Peace.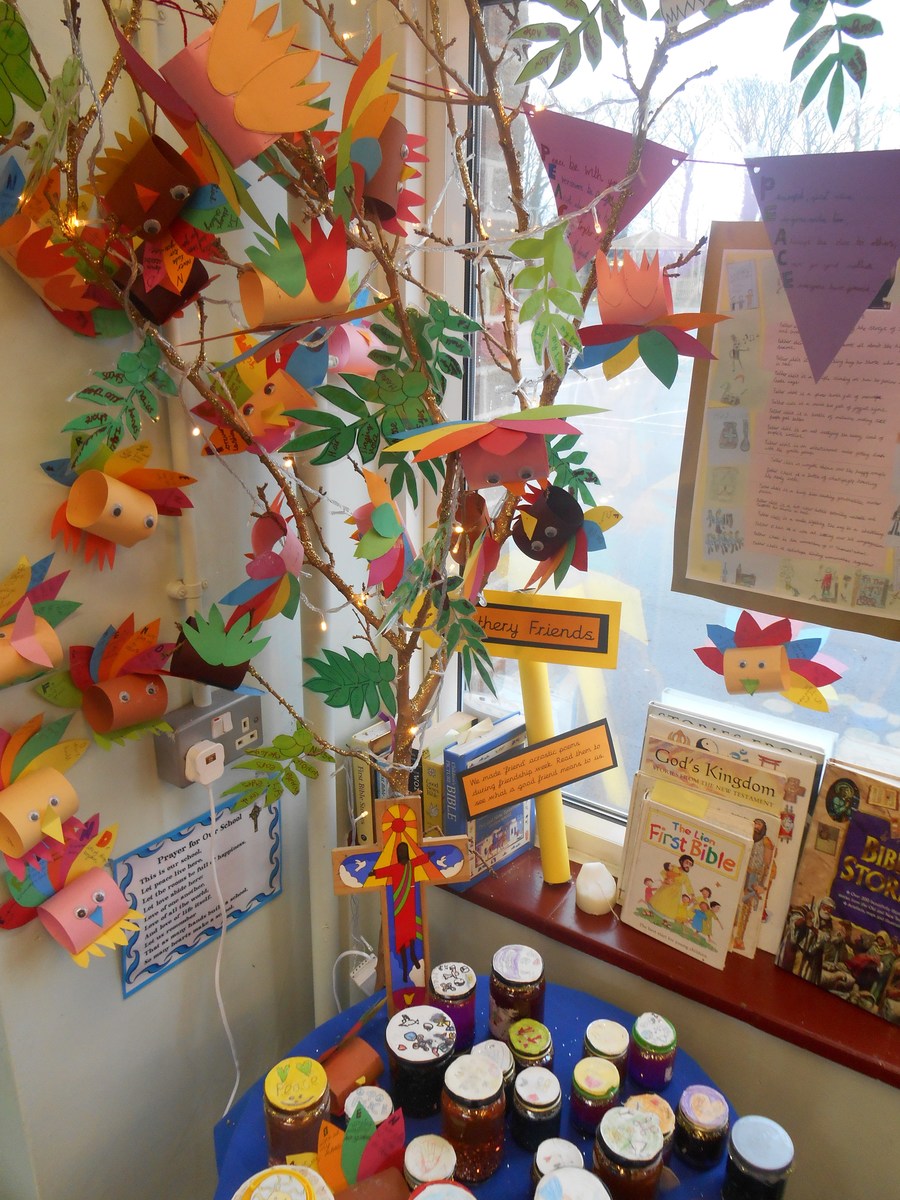 We have been learning about our Gospel Value of Peace. We have thought about what Peace means to us and how we can find 'inner peace'. We have looked at significant people in history linked to Peace.
We have looked at the dove being a key symbol of Peace. We have sketched doves in Art and decorated them with Peace symbols, colours and images that make us feel 'at Peace'. We have also created acrostic poems about Peace.

P.E. days are

Tuesdays

and

Thursdays.
Autumn (Tuesdays); Gymnastics.
Autumn (Thursdays);

Invasion Games.
Spring (Tuesdays);

Dance.
Spring (Thursdays);

Athletics.
Summer (Thursdays);

Swimming,
Summer 1 (Tuesdays); Net and Wall Games.
Summer 2 (Tuesdays); Striking and Fielding Games

.
Indoor and outdoor kits required in school

at all times

(don't forget to take out earrings at home).
English and Maths homework returned to school on Mondays.
Spellings - one column completed every night and returned to school daily. Sentences to be completed within the week, to enhance vocabulary and understanding of the words. Spelling test and new spellings on FRIDAYS.
Please note that the children peer mark the spellings, so do point out any spelling mistakes if they have not been spotted!
Don't forget to access TT Rockstars (logins are at the FRONT of your child's Reading Record). This is a super resource that we have subscribed to and helps to improve the speed and recall of mental maths facts (in preparation for the statutory times table test, in 2020).
Remember to complete this at least three times a week.
By Year 4, it is expected that children are already proficient in their x2, x3, x4, x5, x8 and x10 tables (including the corresponding division facts).
Remember to complete one 'BugClub' book a week. This fantastic resource supports children's learning by improving their inference and deduction skills when answering questions about the text.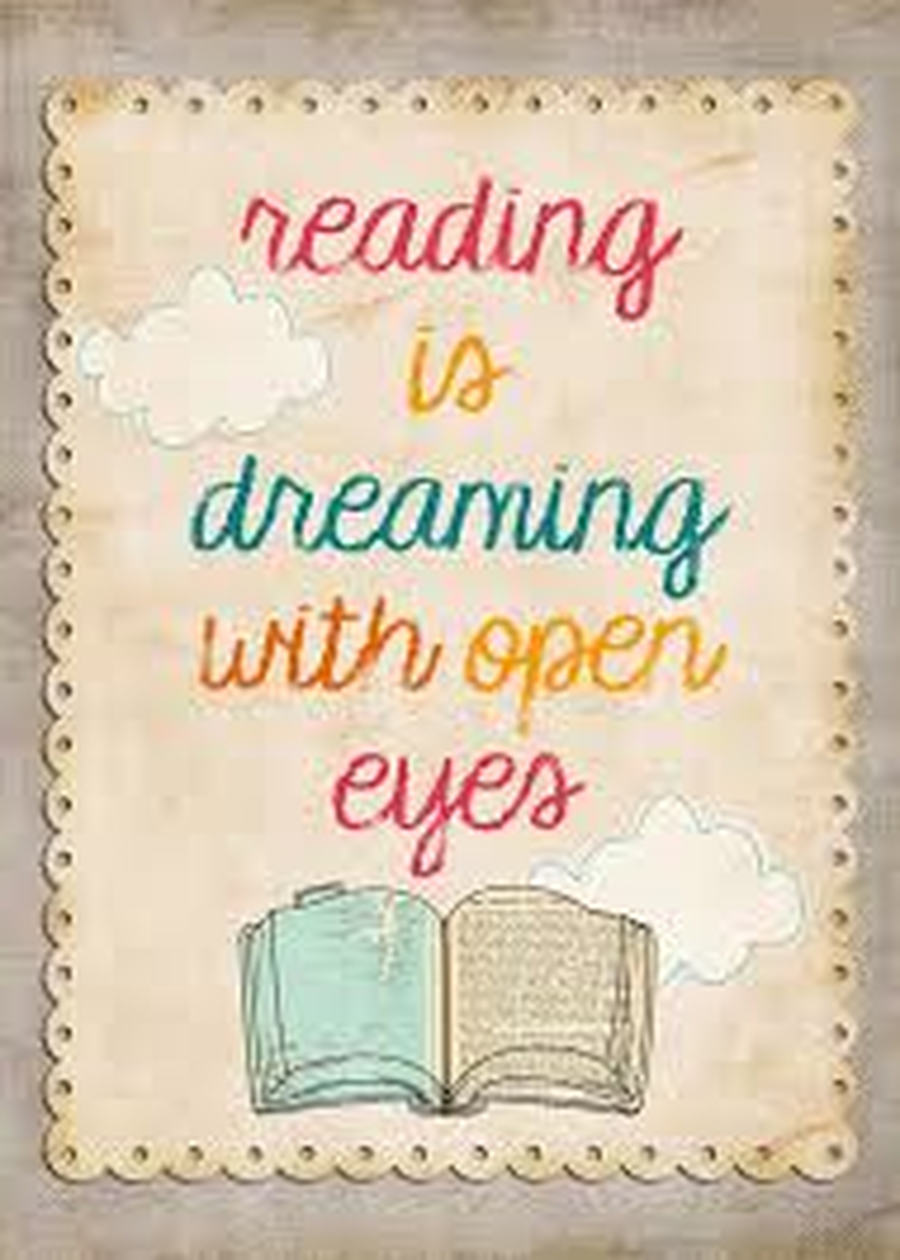 Bring in Library books to change on Fridays!