Welcome to Year 1 2021-2022!
Welcome
Welcome to Year 1's web page. We hope you find out all the information you need.
Class Teacher: Mrs K Eaves
PPA cover: Mrs Stones (All day, every other Monday)
SEN 1:1 Support: a.m. Mrs Greer, p.m. Mrs Riley
Class TA: a.m. Miss Cunningham
Please use the Year 1 email address to contact me
year12021@st-thomas.lancs.sch.uk
Year 1 Class Information
Homework
There will be a spelling test every Friday in class. There are 2 spelling groups, Mrs Eaves' and Miss Cunningham's. More information to follow.
Reading books will be changed every Monday, Wednesday and Friday but can be changed daily if required. Please make sure reading books and diaries are in school every day. Please sign your child's reading record when they have read to you and add any comments you may wish to make. We will read with your child as much as possible in school but it is incredibly important for them to read at home too.
P.E.
P.E. lessons will take place on a Monday and Wednesday. Please ensure your child comes into school wearing their full P.E. kit.
Useful links are towards the bottom of the web page.
Year One's School Council Members, Sports Council Members, Eco Warriors and Art Stars!
In addition to writing numbers 1-20 correctly, it is an end of year expectation in Year 1 to write them in word form correctly. Here are the spellings of numbers 1-20 in words to practise with your children at home.

Friday 15th October
We have had a very calm week in class this week. We have made our Cauliflower Christmas Cards in preparation for them to be sent home next week. The children have all produced a Christmas picture, which if you want to, you can purchase through Cauliflower cards. They print the design onto a card, wrapping paper, tags etc. These designs will be sent home on Monday. If you would like to place an order for any of the Christmas cards, paper, tags etc. please ensure you return the completed forms to school by Wednesday 3rd November at the very latest. Any questions, please ask.
In maths we have been learning about addition, using tens frames and part, part, whole models. We will continue with this next week.
Friday we had a yoga lesson, and the children had a very fun time. Check out our photo's.
Friday 8th October
This week we went to church for our very first whole school worship with Father Chris. The children were very sensible walking to and from church, and they sat and listened in church well. They enjoyed the service, and this will happen on the first Wednesday of every month.
Children in group 1 Forest School have had an awesome time. Check out their photos on the Forest School page.
In maths this week we have been measuring the length and height of objects. We have used body parts, cubes and paper clips. The children have had lots of fun doing these tasks!
Reminder
Everyone welcome to the Harvest Festival at St Thomas' Church on Sunday 3rd October at 10:30am-11:15am.
Thank you for your kind harvest donations.
Friday 1st October
The children have worked incredibly hard this week and I am very proud of them.
In class we have introduced 'money bags', where the children have 10p made up of a different combination of coins, and during continuous provision they 'spend' their money on a range of different activities. This involves children recognising the cost, working out which coins they need to pay for it and then working out any change they should receive, and how much money they have left. They have loved this. The money bags will be frequently topped up.
In maths we have been making number lines and also representing numbers 0 to 29 using unstructured equipment such as Unifix, bundles of straws, ten frames and structured equipment such as Base 10, by creating groups of ten and ones. The children have made super progress with this.
3oth September
European Languages Day- FRENCH!
The children looked AMAZING! We tasted brioche, learnt about the country France and about the capital city, Paris. We learnt colours and greetings in French and made the "tricolore" (three-colour) flag.
27th September
We have been learning about directions in Geography. The children were given a list of directional instructions to follow. This included left and right turns. They have also been programming the Bee Bots to follow directional instructions too.
Friday 24th September
We have had a very busy week in Year One. In geography we have been learning about the 7 continents. The children love the 7 continents song (link at bottom of the page).
In Science we have been identifying different types of animals. We have opened the St Thomas' Vets in class (role-play area), which the children LOVE!
Next Thursday, the 30th September we will be celebrating the European Day of Languages. In Year One we will be learning all about France. On Thursday the children can come to school wearing something French! Oooh la la! Maybe a beret or a breton top, or something red, white and blue. We will also be sampling some French food too.
Friday 10th September
What a fabulous first week in Year One the children have had. They have all settled into the class and school routines extremely well. They have made good progress with their reading, please remember to send their reading packet back to school daily in (including the clear packet).
We had a lovely treat, we watched the Wizard of Oz production, which the children loved.
We have started using the Class Dojo, please remember not to change the Dojo Monster, as each child has their own, so there are no duplicates in class.
Thank you for your support this week, and your patience at home times whilst I learn faces and names.
Have a super weekend.
Mrs Eaves and the Year One Team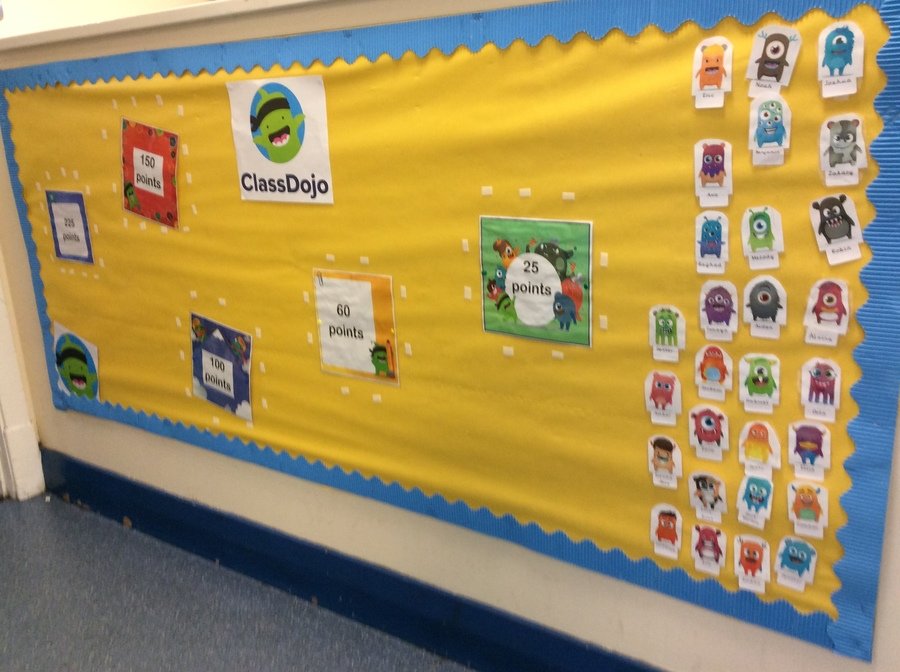 Our Fabulous Year One class!
Friday 10th September
We have had a fantastic first week in class. Well done to all the children for settling in so well.
On Thursday we watched the performance of The Wizard of Oz, which the children loved.
We have set up our class DOJO's and our DOJO board. The children each have their own DOJO monster, please do not change these as every child has their own monster, no duplicates in the class. The children will get a reward when they reach 25. 60, 100, 150 and 225 DOJO points.
Thursday 2nd September
The Year One team cannot wait to meet you and your child and welcome you all to Year One.
Some general information regarding the first week in class.
The first week we will spend time getting to know each other and settling into our new class routines. It all all very exciting! Your child will be tired when coming home from a full day of school as they get used to being back in school again after the holidays, so homework will not be sent home until Friday 17th September. I will send more information out regarding this in the coming weeks.
Over the first week in class I will listen to your child read to ensure they are on the correct level reading book. I will then send home a reading book along with information about Bug Club. Please try to read with your child every night, or at a minimum 3 times per week. Please ensure when you have listened to your child read you sign in their yellow reading record to let me know how they got on with their book. Reading books will be changed in class every Monday, Wednesday and Friday so please ensure they are sent in on these days. Please also read one online Bug Club book per week too. These online books will be updated weekly to reflect any new phonemes (sounds) learnt in class that week.