19th September 2019
It is very exciting time for our school as we have applied for our 'green flag'. Over the next few weeks the Eco Schools team will assess our application and will come to visit us to see if we meet the criteria. Next week we will be sharing our new Eco Schools motto which the children have created themselves. If you would like to become involved in our ECO club or help in any way, please come and see me. Thank you Mrs Mason
13th September 2019
Wow, Look at our wildflower gardens grow! They are visited daily by the bees and over summer we had lots of butterflies too. We have definitely helped create a habitat and food source to help the 'plight' of the bee!
Welcome to our new Eco warriors! We have been already creating our school 'eco motto'! The children did a great job and remembering everything we have worked on over the last two years and by suggesting lines for our motto! Look out for posters around school and we will share our posters with you by sending a copy home.
1st July 2019
Our wildflower garden is beginning to grow! well done KS1! Now all we need is some sunshine and to keep watering our flowers!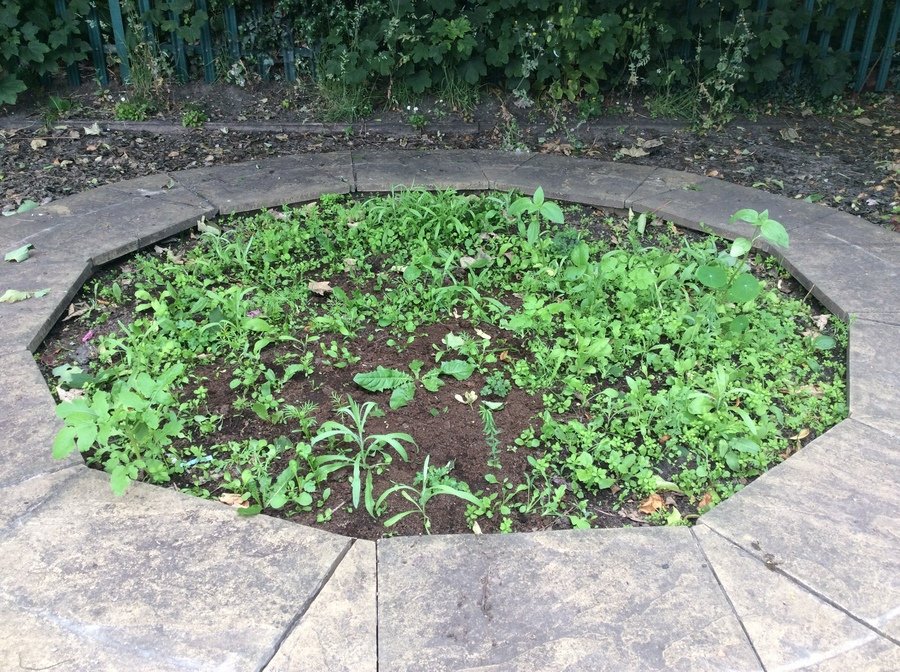 14th June 2019
Thank you to the KS2 parents/carers for help planting the wildflower garden. All children in school were given the opportunity today to make a seed bomb and take part. Hopefully the sun will shine and we will have a great garden for the bees and butterflies!
21st May 2019
Year 2 have been helping to keep our school clean by taking part in our litter picking session.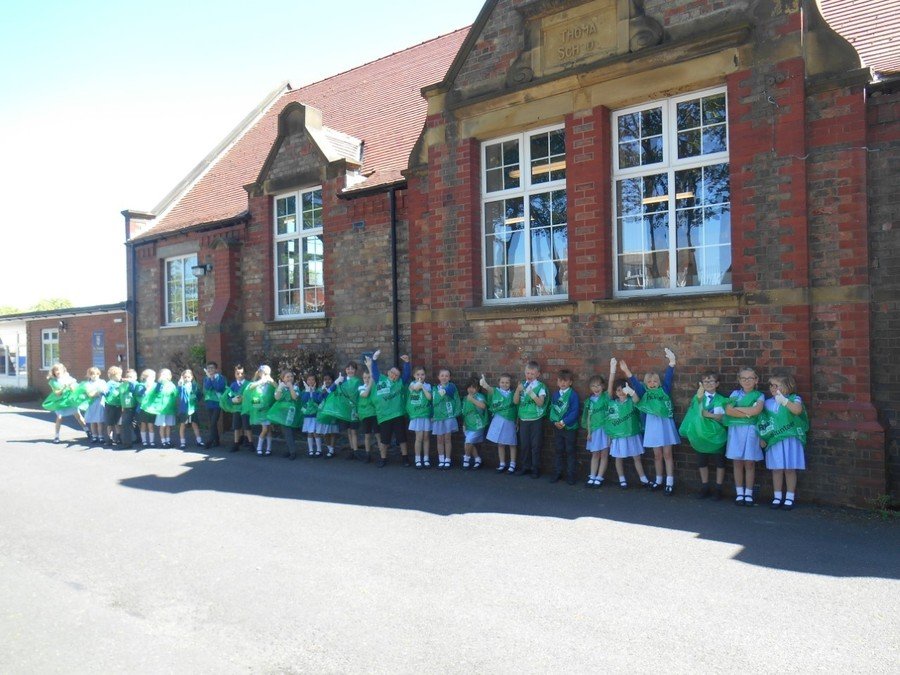 26th March 2019
Year One have been LITTER PICKING our school field. We know that looking after our world includes keeping it clean and tidy.
22nd March 2019
Today the 'eco warriors' set about collecting words ready for St Thomas' to create their own ECO CODE for all pupils, teachers, parents and governors to know and support us with. If you would like to contribute to our eco code then please write down some of your ideas or better still... joinus in our next 'eco' meeting on Friday 29th March at 9am.
Thank you so much for all the used batteries so far! Our first container is half full already!
March 2019
Where possible we are encouraging people to walk to school. We will be recording the information as children come into school. Can you reduce your carbon footprint?
11th February 2019
Today we invited parents and the whole school into assembly to launch our BIG BATTERY HUNT! We also shared what the Eco Club and St Thomas' have achieved already. Please take a look at our presentations!
21st December 2018
Year Three have been 're-using' bottle top lids to make their Christmas tree decoration! Lets hope they will 'hang' around for a long time!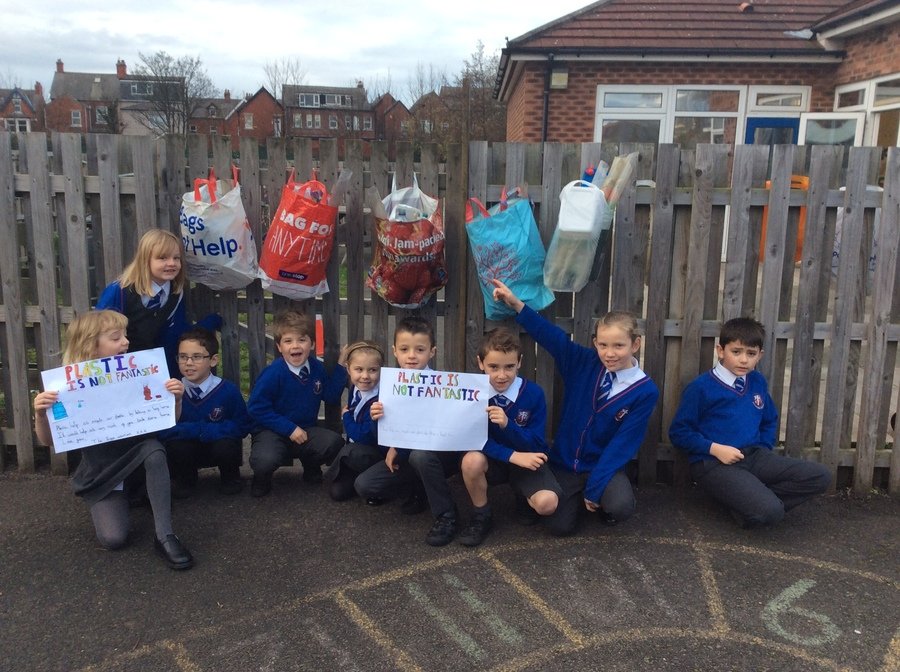 20th November 2018
Today children have been designing flyers for our PLASTIC IS NOT FANTASTIC week!
Here is our school litter picking rota. Parents and helpers are invited to join in and help. Please look out for a text or an invite in the website.
Our St Thomas' CE Primary School Eco School Curriculum
20th November 2018
PLASTIC IS NOT FANTASTIC WEEK!!!
The children at Eco Club have been making posters that will be made into flyers and sent home. We spent 2017/2018 collecting plastics from around school ready for recycling. The children would like parents to take a bag of plastic home and put it in your 'blue' recycling bin. This will free our school bins so we can begin our plastic recycling conquest again! Thank you for your support in making our environment cleaner and more eco friendly.
Say hello to our 2018/2019 new 'Eco Warriors'! (more photos to come).
In July 2018 the PTFA and funds from Gardening Club paid for each child in school to have a water bottle. These water bottles are ECO friendly as they are a plant based plastic material. They can be recycled and they minimise single use plastic in school.
26th February 2018
This week we will be introducing a new initiative to help us achieve our silver award. This morning the children have met 'Recycling Rita' and will begin taking part in 'Waste Week'. We will be starting paper and cardboard recycling in class and inviting parents to help us recycle our plastics. We will also be encouraging children to be less wasteful of food at lunch time e.g. finishing their plate and only choosing what they will eat then going back for more if still hungry. We will measure the food and rubbish wastage in our bins before we begin our initiative and then measure the impact. This information will be passed on to the 'POD' scientists at EDF energy who are supporting schools in the battle to look after our wonderful world!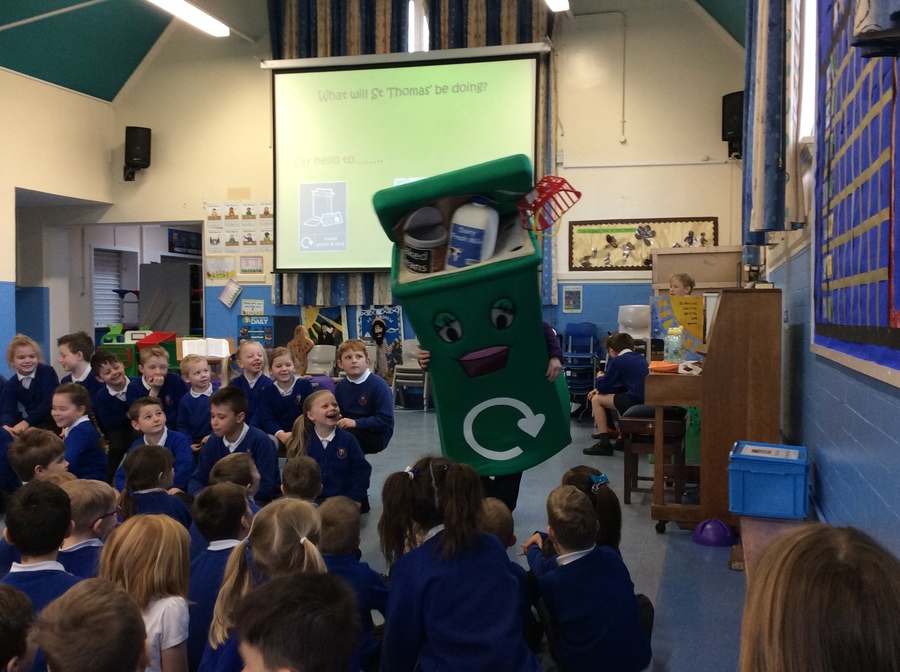 Thursday 11th January - We are working towards our silver Eco Club badge. To make a bigger impact on our school environment we are introducing Whole School Litter Picking. Duties will be taken up by: January - Year 4; February - Year 1; March - EYFS; April - Year 3 - May - Year 5; June - Year 2; and July - Year 6.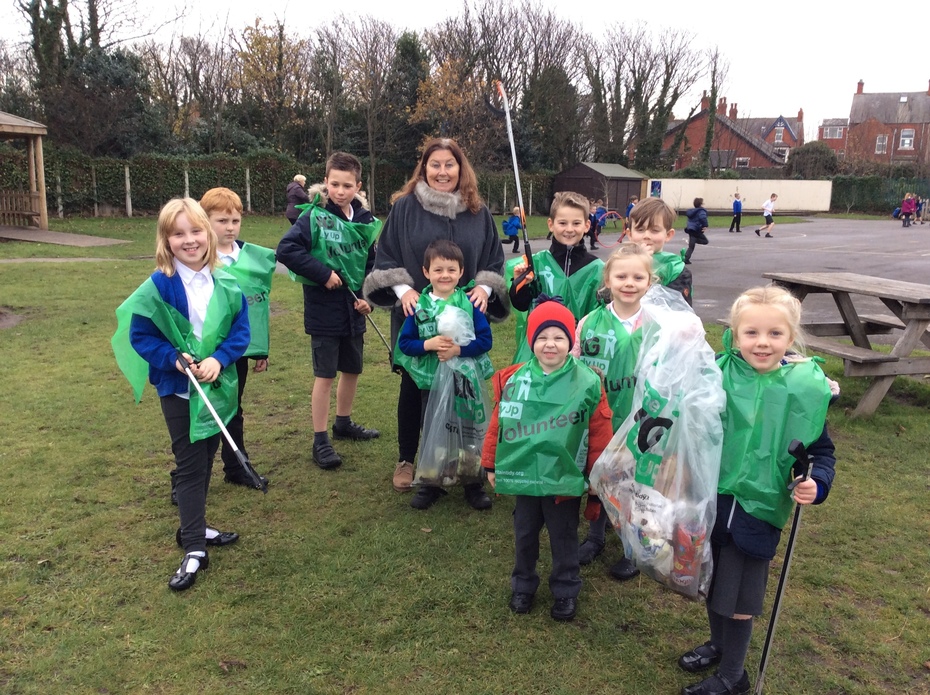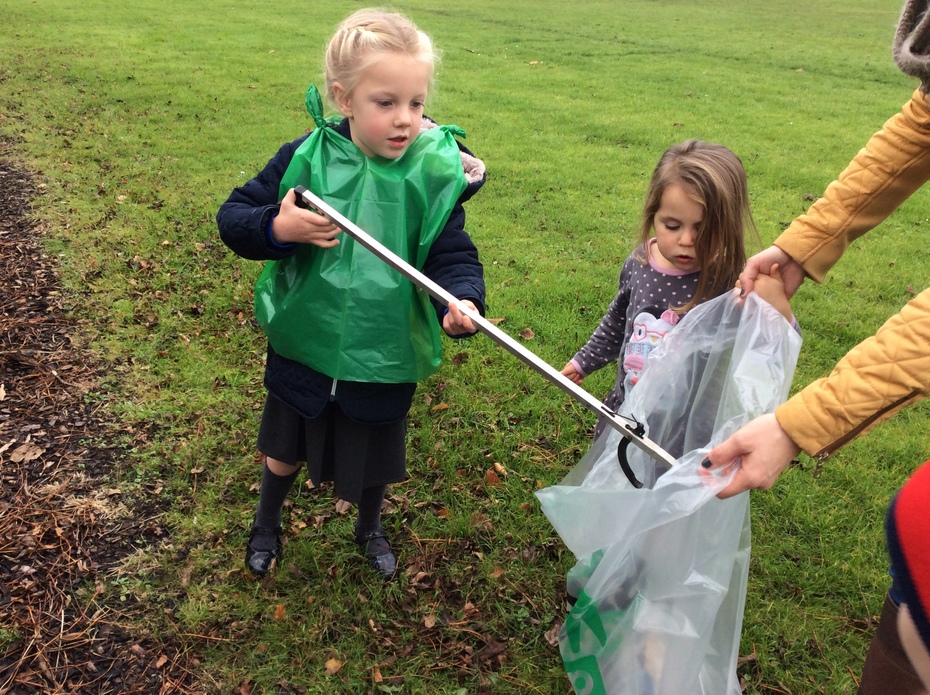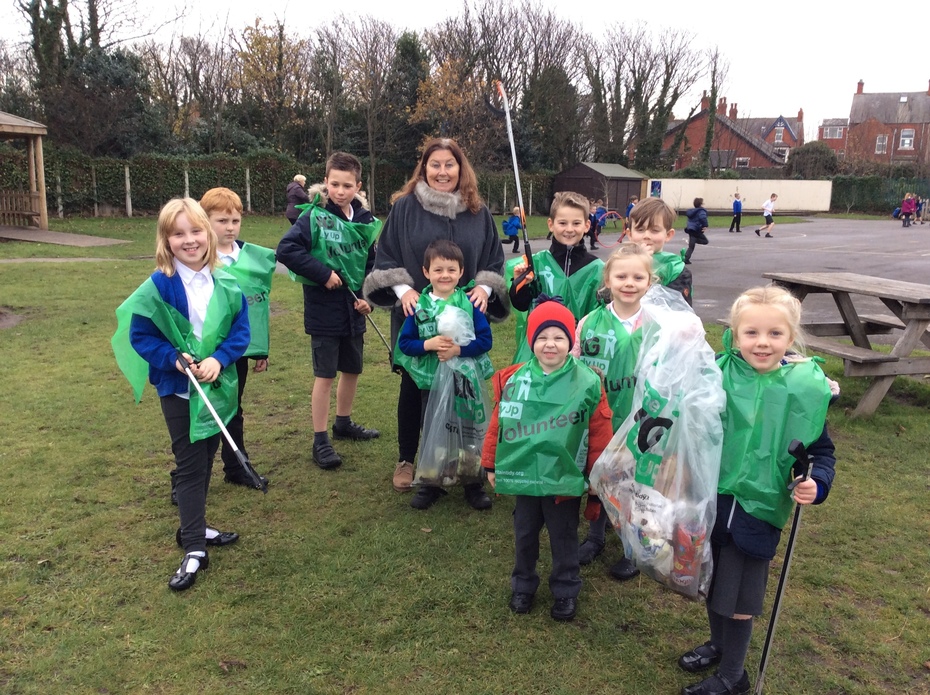 Eco Club is run by Mrs Mason and 14 children, two from each year group. Members are: Jasper and Maisie in Reception; Arianna and Grayson in Year 1; Angelo and Erin in Year 2; Scarlett and Taylor in Year 3; Izzy and George in year 4; Leo and Emmie-Mae in Year 5; and Finn and Seren in Year 6.
They meet every half term during their lunch hour. Last half term they achieved the Bronze Award following a plan they drew up to make the School more eco friendly. The two target areas for the action plan are saving energy and litter picking. This half term they are working towards the Silver Award. If you are a parent, grandparent, carer or friend of the school and would like to help at Eco Club, then please contact Mrs Mason.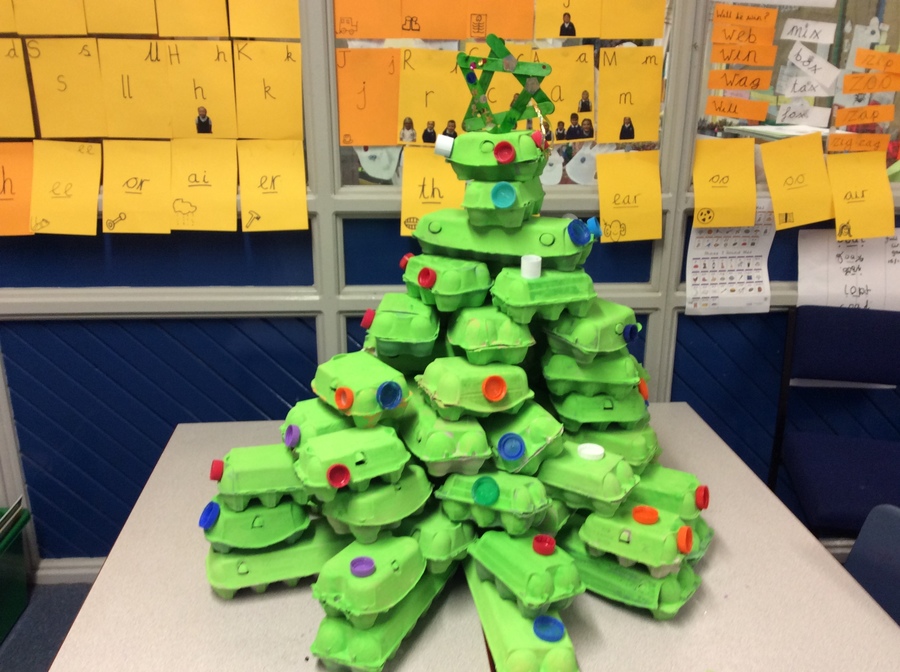 We have used egg boxes to make an 'Eco-friendly' Christmas tree! Year One and Eco Club have helped us paint, stack, fix and decorate the tree!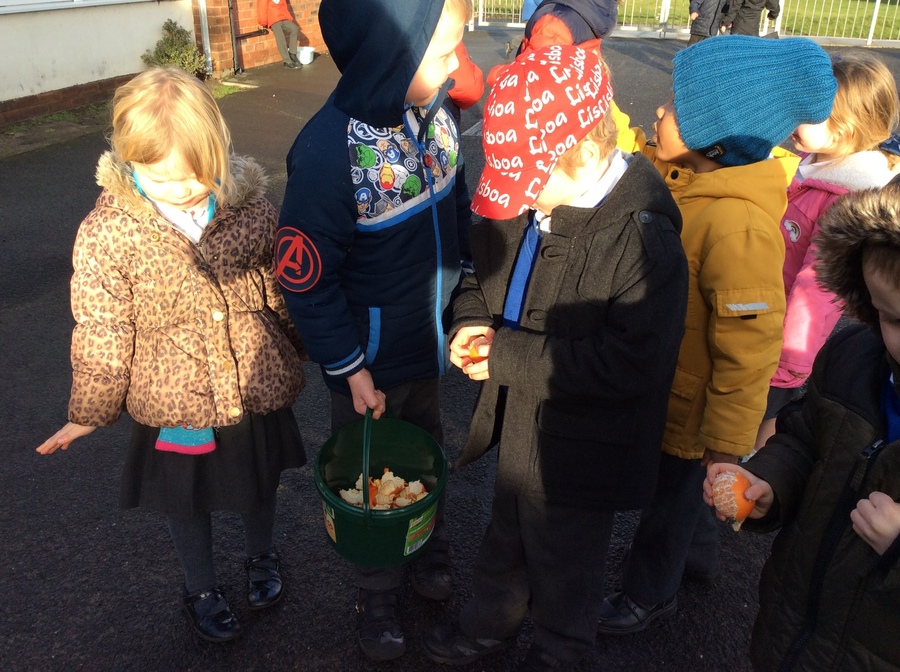 January 2018
Each class at St Thomas' has a fruit peel and core bucket ready to put in our Key Stage composter. The staff have begun collecting their used teabags in the staff room ready for the composter too.