Last Choir Singing Competition
Last Choir Singing Competition
17 March 2017 (by Claire Gilmour (c.gilmour))
On Thursday 16th March, our school choir sang their hearts out at a regional competition. The children did amazingly well, even though unfortunately they didn't win.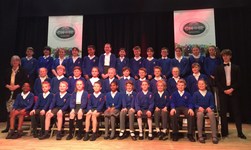 We are all so proud of our choir, not just for the singing, but for their attitude and behaviour which was exemplary throughout the whole evening.
The children had a great time and as ever, were worthy ambassadors for our school. Well done all who were involved and supported us, especially Mrs Palmer.