Today we have been mixing colours to paint blossom. We could only use primary colours and white! We used a magnifying glass to observe the blossom closely.
Welcome back! I hope you have all had a 'cracking' Easter!
Please make sure all PE kits are in school from Monday 9th April and water bottles too. I have updated BugClub book allocations for all children. Please make sure you read one BugClub book a week and record in the yellow reading record book. Spellings will continue to be given on a Monday and need to be returned by Friday. Homework will be given on a Friday and needs to be returned the following Thursday.
This half I will be holding a 'Phonics Screening' meeting. In June children from year one will take part in a statutory screening test. This is a national measure if reading skills linked to phonics. I urge all parents to attend the meeting if possible as it will give you an insight into how the assessment is delivered and how you can support your child at home.
Thank you
Mrs Mason
Glittery Letters! In Year One we want our small letters to be small and our tall letters tall. Using glitter trays and paintbrushes is great fun for practising!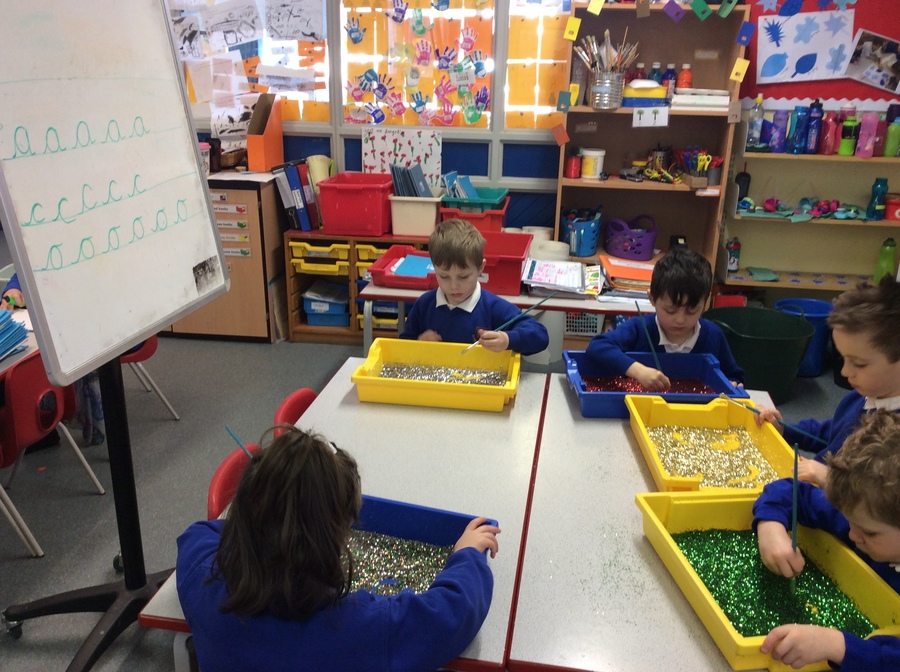 We have been observing seasonal flowers around our school grounds. We have used our observational skills to draw and colour the flowers that we identified.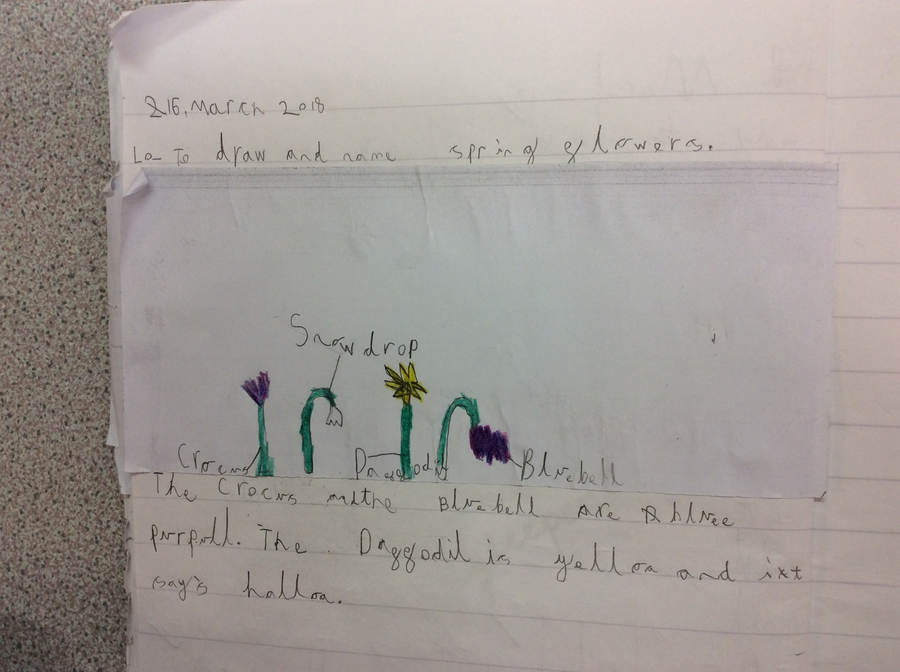 The children in Year One have planted saplings around the school field alongside other year groups. Year One children have given instructions on 'how to plant a sapling' to the children and staff in school. You will need......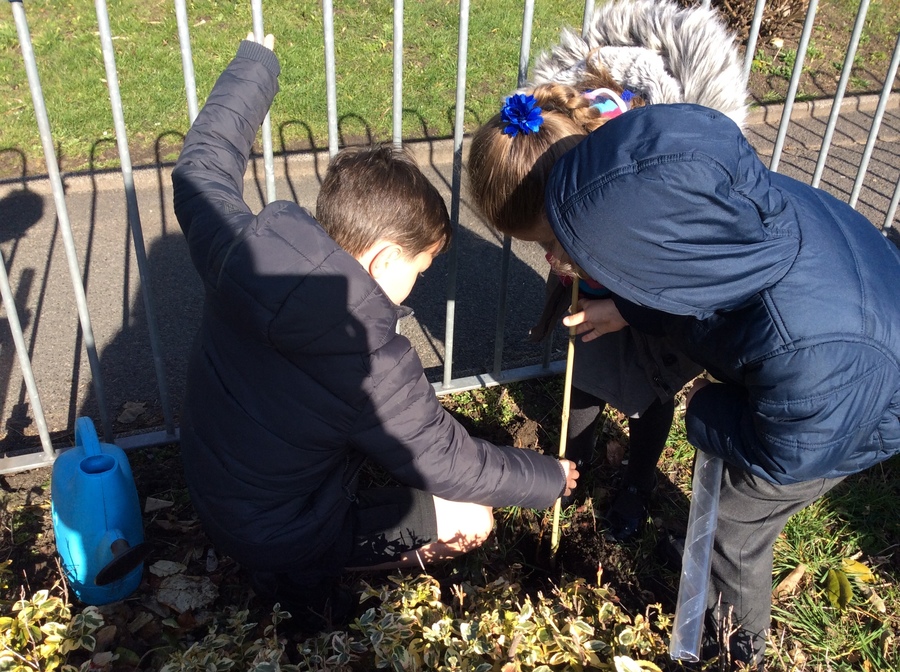 This week we have been learning the traditional tale of 'The Enormous Turnip'. We have used actions order the story and perform it to staff in school.
SOS- any parent that can collect some plastic pots, lids or containers to put in their recycle bin at home, please let me know after school. We are trying to recycle the 'junk' modelling resources from our robot work responsibly.
Today we have been planting saplings on the school field. We have planted ten! We used our new skills and knowledge to write instructions for the other classes.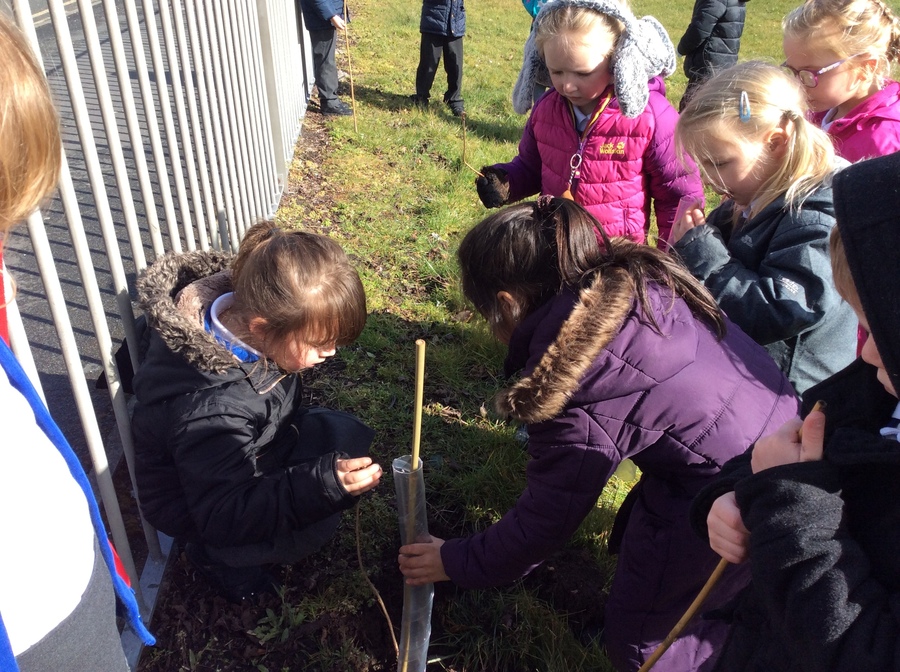 This weeks homework is to make a leaf identification wheel. The two sheets and split pin needed are in your child's school bag. We will be using the wheels once it is Spring and the leaves have begun to grow again. Can you talk about the shape of each leaf, find similarities and differences?
Today we have been making yummy treats for a VERY special person...... shhhhhhhhhhhhhhhh!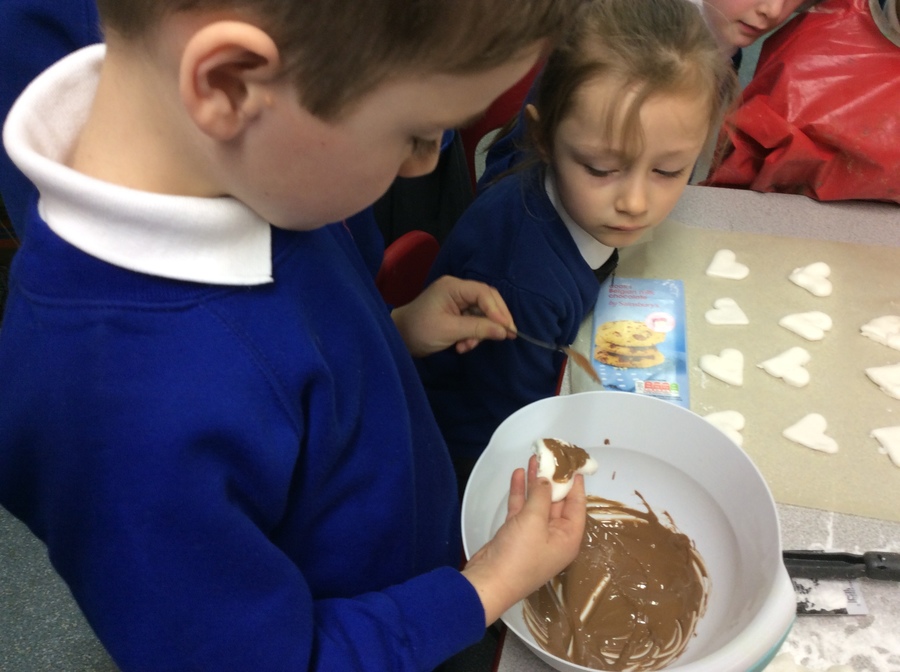 Thank you for sending in the fruit and vegetables. We enjoyed peeling, grating and chopping! We ALL learned the names of some new interesting fruits!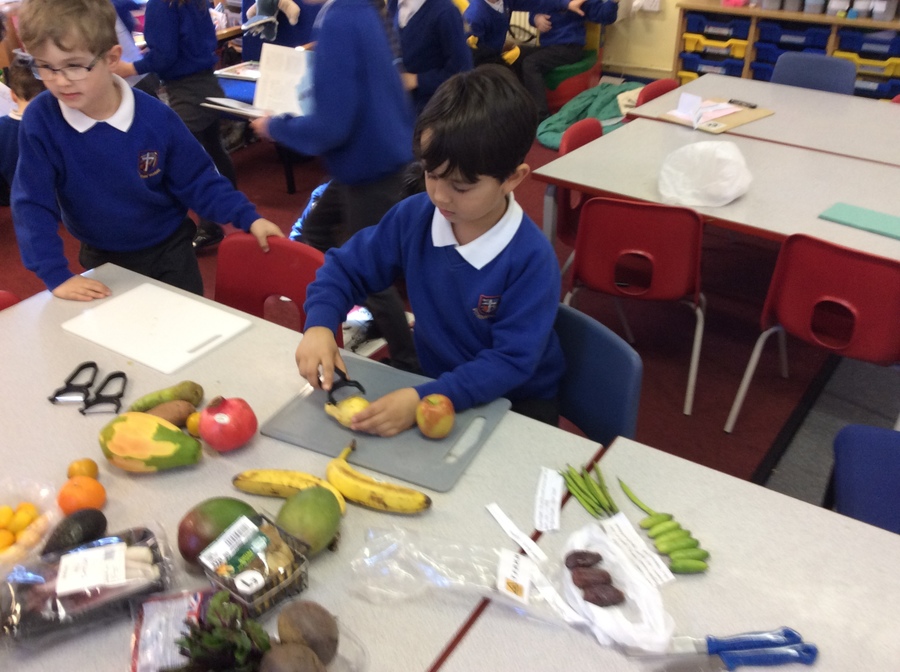 In Science this week we have been learning about different trees. We helped an alien sort and name trees using the leaves from his planet. We looked at the edge, colour, texture, veins and stem. We will use our new skills to learn the name of British Trees.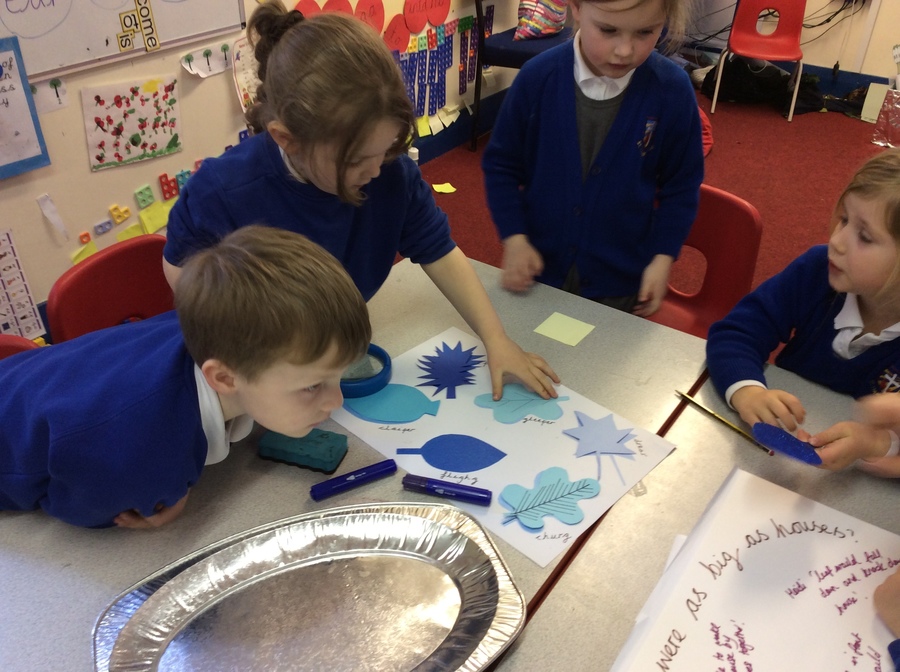 Please could parents send in a piece of fruit or a vegetable ready for DT on Monday? We will be peeling, cutting, grating, mashing and eating.
Yesterday we made Forest School pancakes! We followed instructions, talked about the actions e.g. whisk, mix, sieve, flip and decorate. Yum, yum!!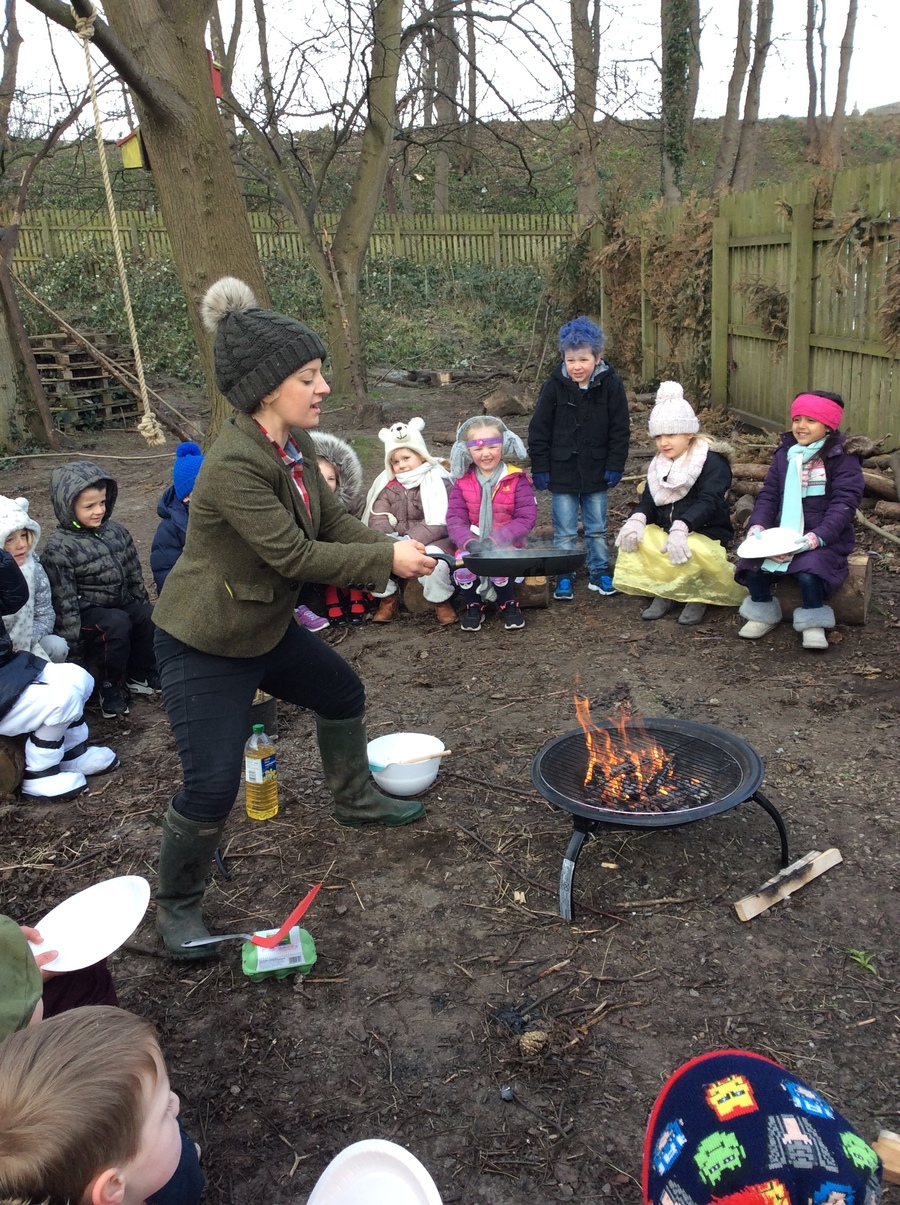 On Thursday we celebrated World Book Day! We dressed up in clothes from our favourite non-fiction books.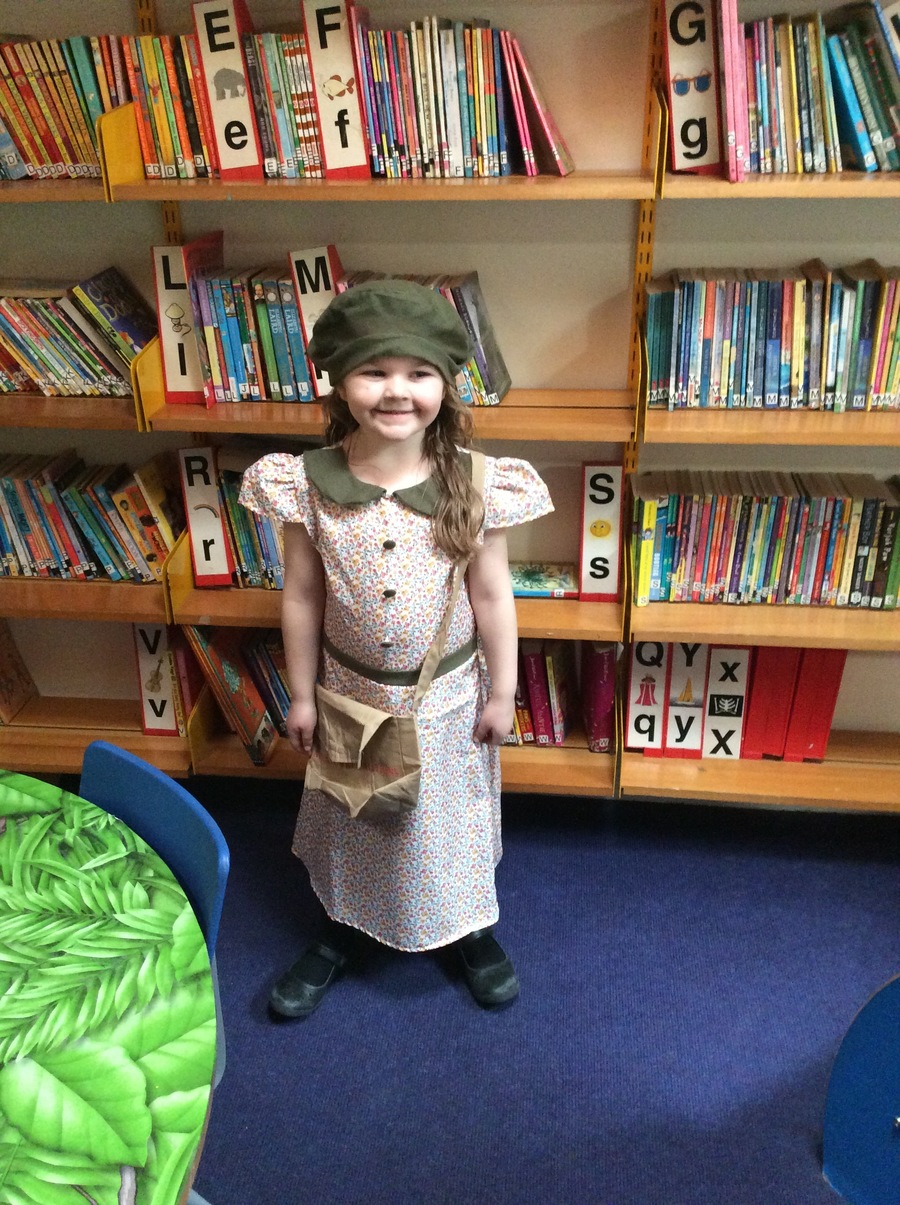 Today Year One have been helping to keep our school grounds tidy! We have been picking up the litter that people have dropped but also the litter that blows down from the road. In twenty minutes we filled two big bags half way. We will litter pick again this week. What super sensible litter pickers they all have been!
POTATOES!!!!! Year One have begun their potato project. We are currently 'chitting' our seed potatoes in the classroom.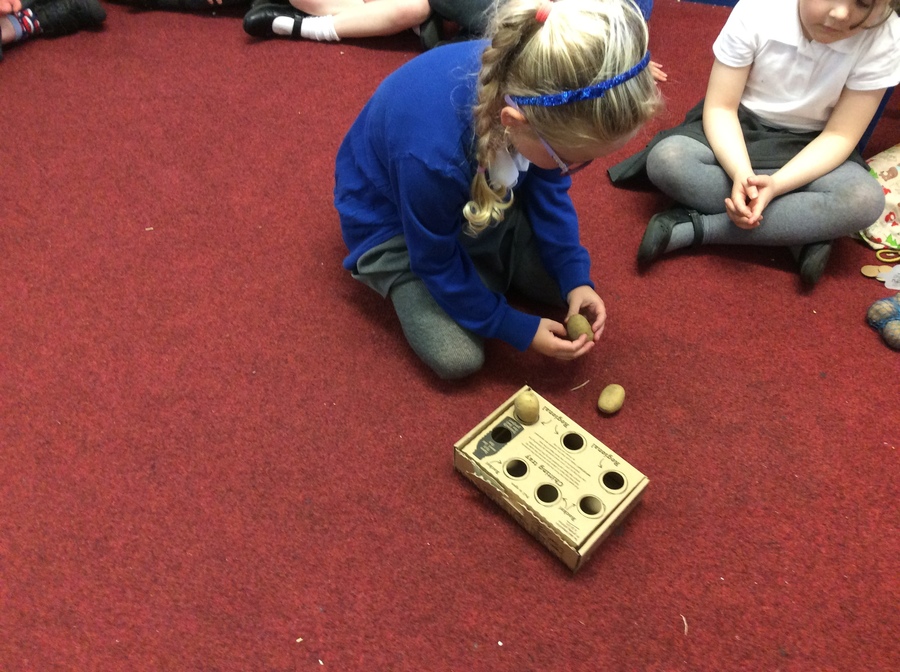 Before half term each child from Y1 brought home a museum ticket. If you would like to visit our museum then please come after school this week.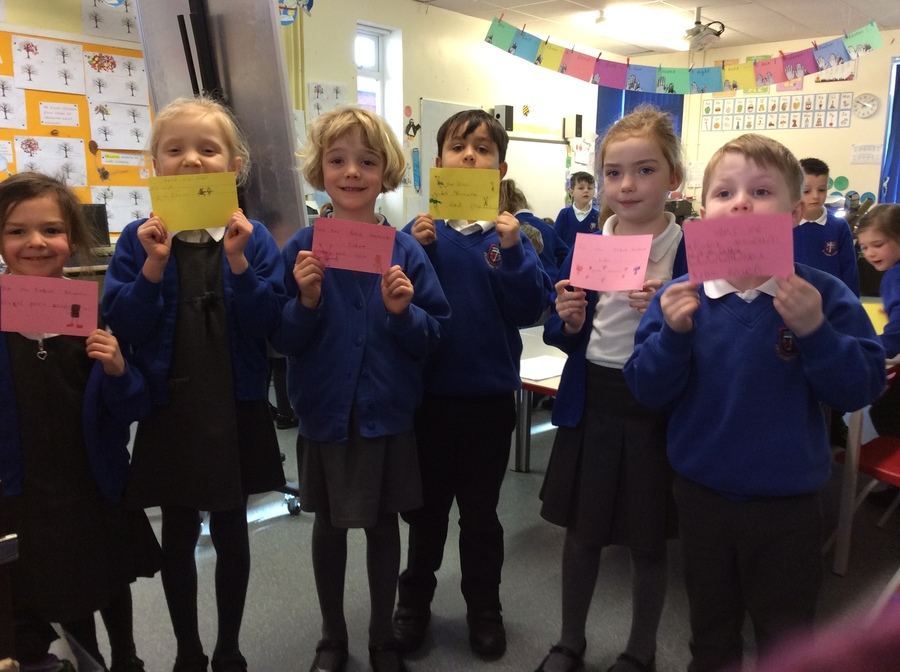 Today we have been investigating! Can the person with the biggest hands hold the most? Ask your child what we found out!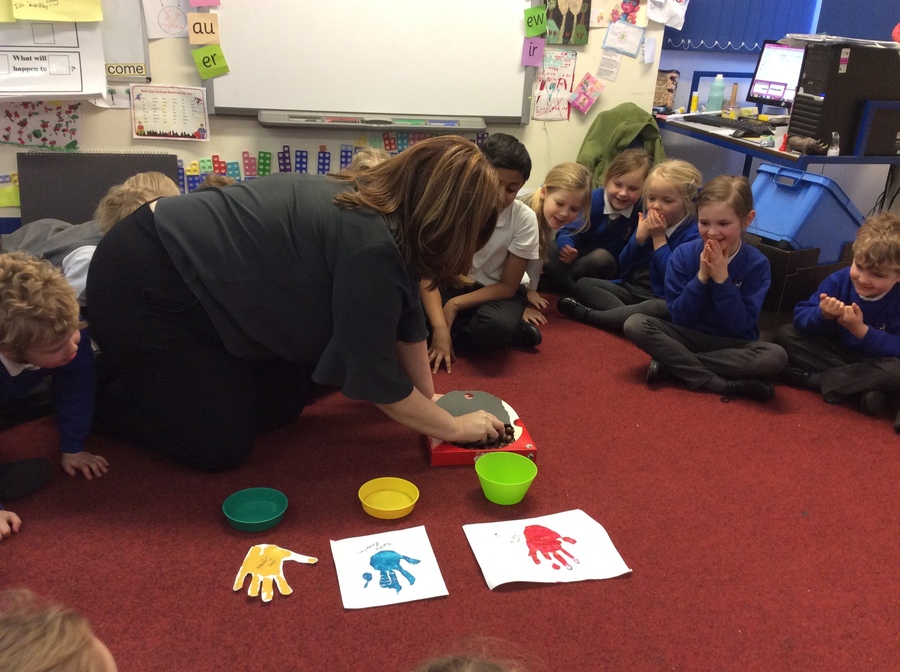 Today we have been exploring 2D shapes. we have made shape people and been identifying their properties e.g. I have three straight sides and three corners. What am I?
Yesterday the children in Y1 completed the RSPB Big Schools Birdwatch! We will be using the information in our Maths lessons and discussing what, where and why! A huge thank you to our grown up helpers too!
This afternoon we have been on a chalk walk. We marked the start of our walk with an 'x' and experimented with different lines e.g. wavy, zig-zag, straight, loopy and silly.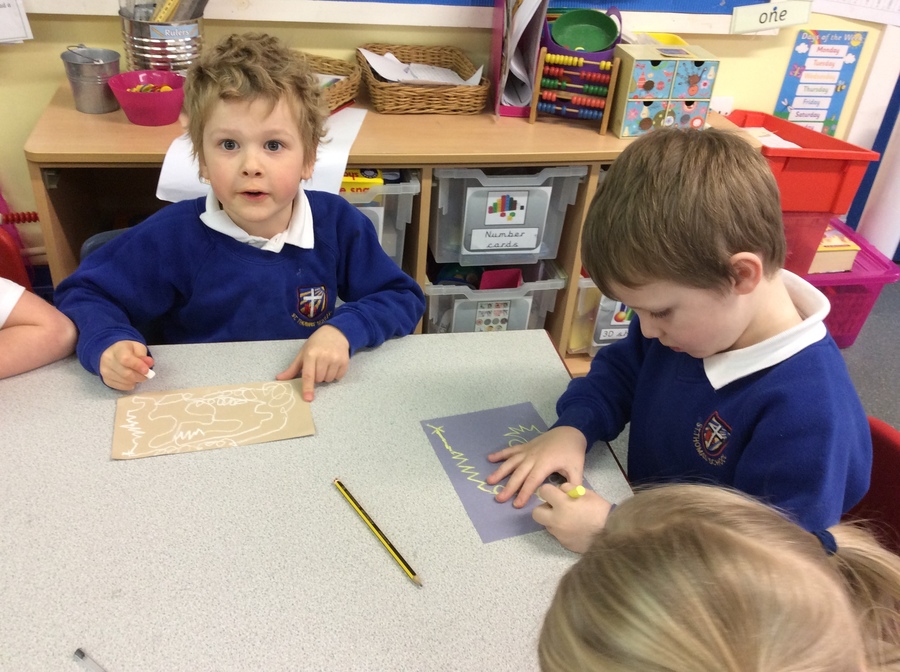 Today we have been learning to count in fives. We had to find the pattern as we counted!
Today we have been retelling the story of 'No-bot' using story maps, trails and by completing a story adventure outside! We are great at using expression for the characters.
We are ready to begin our 'fantasy setting' genre in English. Today we have been making a prediction about a book called 'No-bot, The Robot with No Bottom' by Sue Hendra. The children have been listening to each others ideas about what they 'think' has happened to the robots bottom.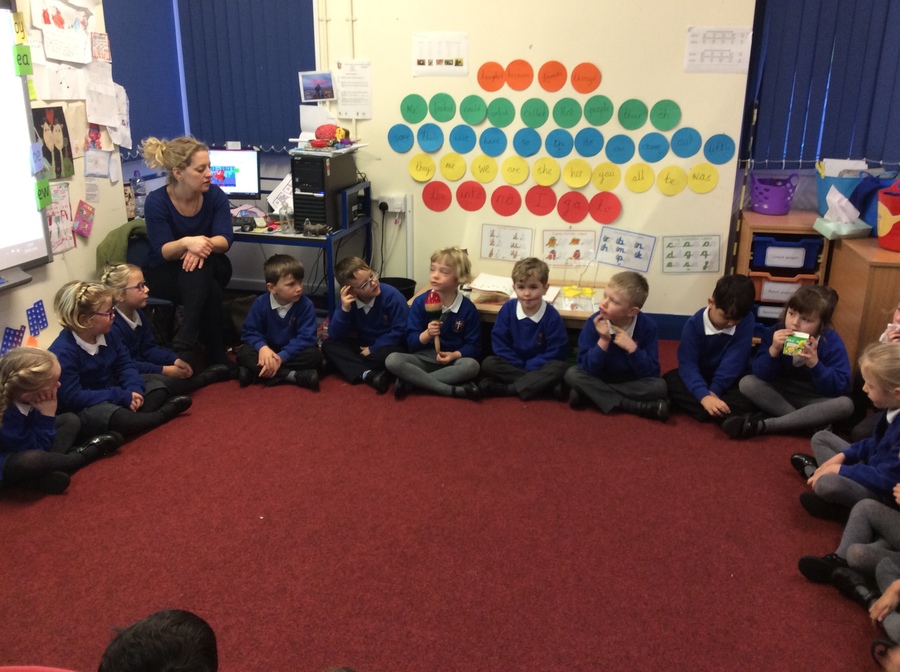 Today we have been learning about arrays and sorting our 10x tables in order from smallest to largest.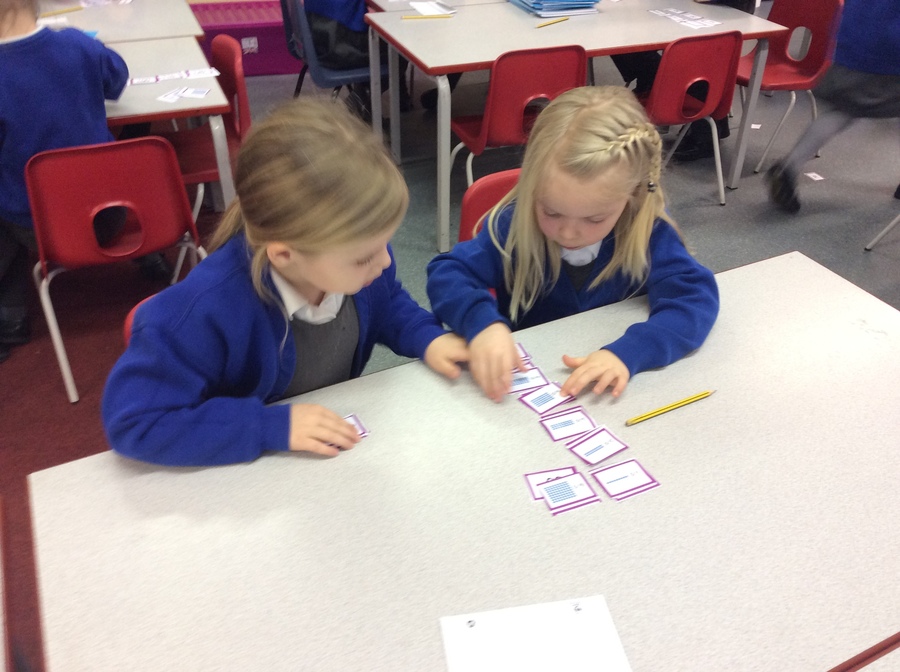 This weeek Y1 are beginning to think about their 10 x tables. We began by counting in tens and grouping objects to see what the groups of ten looked like. We now know that x (times/multiply) is the same as saying 'lots of or groups of'.
Today we have been using our phonic knowledge to blend sounds together for reading. We have been sorting words into real and not real words. This week we have looked at the grapheme ay, ea and ie. We will be bringing home reading books to help us apply our phonic knowledge.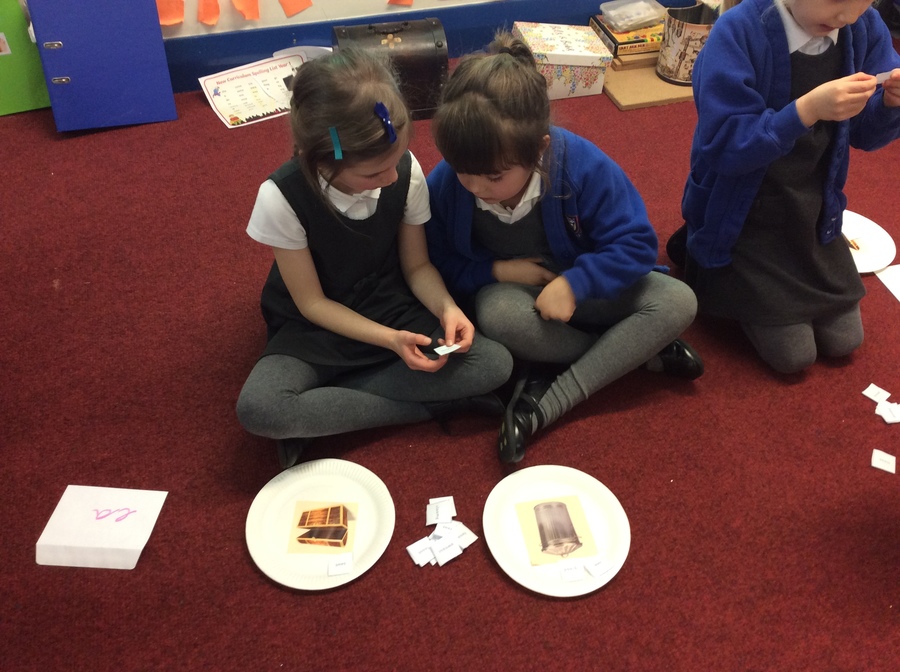 Please find a quick example of how the spellings task should be set out. On a Monday the children write in the four spellings at the top of the page. For Friday the children need to think of a sentence for each spelling. There should be four sentences composed by Friday. Thank you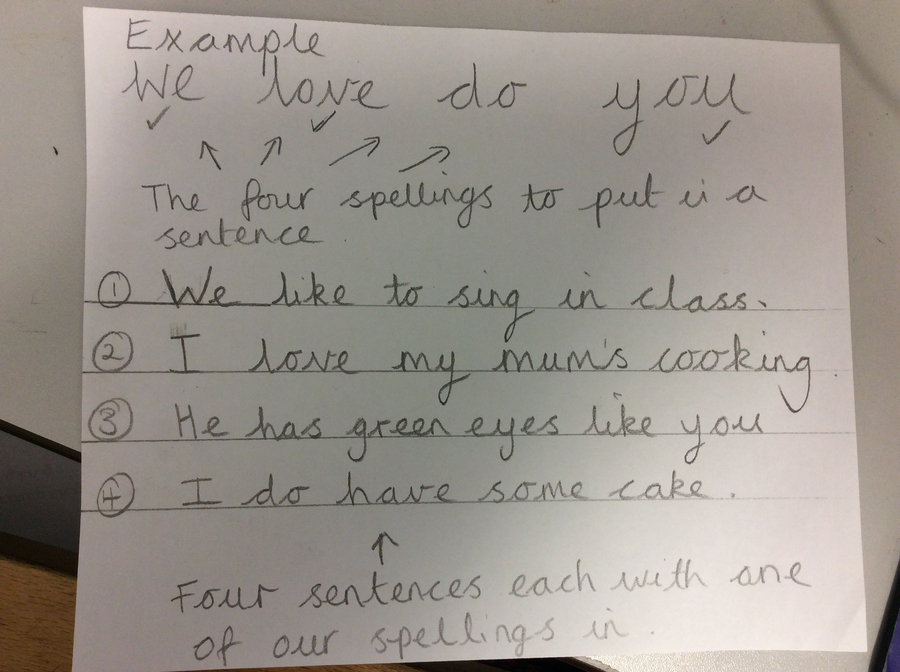 Today the children in Y1 have been learning a poem called 'I'm a Little Robot' by Robert Heidbreder. We have been learning how to perform the poem with actions. We have also been sharing which line we enjoy the most.
Today we have been learning to represent numbers beyond 20. We have been practising using rods and cube to represent tens and ones. We now know that we can represent rods and cubes by using lines (tens/rods) and squares or dots (ones/units).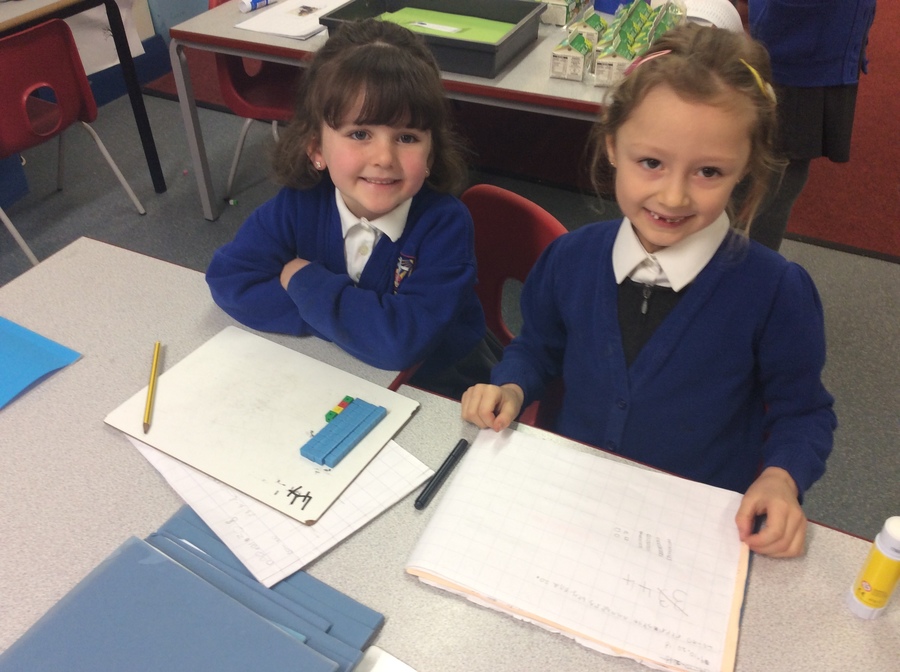 Today we have been sorting Christmas cards into groups. We have been giving reasons for our choices!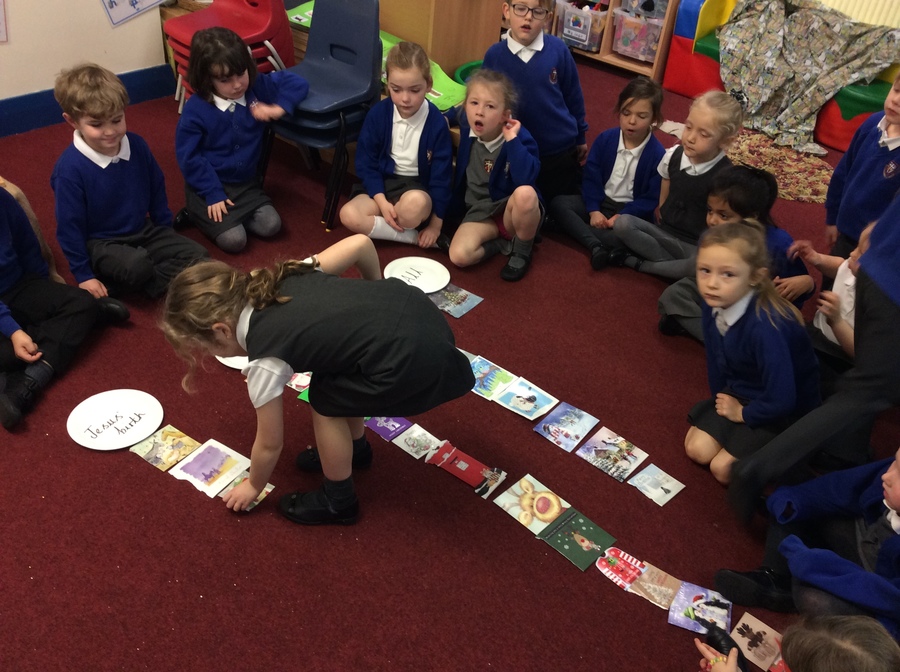 Today we have been making baby Jesus in his manger! We used Shredded Wheat, chocolate, yellow colouring, jelly babies and icing.
No homework for Y1 over Christmas other than to have a fabulous, magical and special time! Feel free to send pictures to my email c.mason@st-thomas.lancs.sch.uk and the children can share them in January!
Here is our ECO Christmas tree!! Thank you for all your support during the Autumn Y1, wishing you a very happy CHr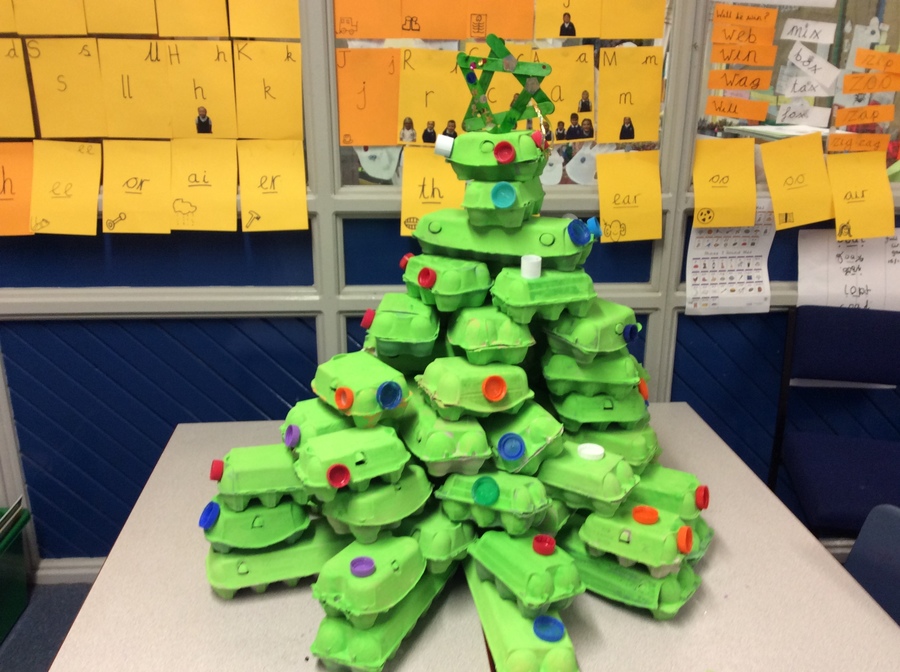 Today we had a STEM challenge....... to find a way to escape the Fire of London by crossing the river Thames!! We had Lego and Duplo as our resources. We had to work as a team, talk, persevere and alter our designs!
We have been dancing, playing games and eating during at our KS1 Christmas party!! We even had a visit from the 'big man' himself!!
On Tuesday the 19th of December the children will be singing and dancing in our school nativity. It will take place at 2pm and 5pm at St Thomas' Church. All children need to bring to school a labelled plastic bag and they DO NOT need to bring their reading/book/school bags.
Please return your child to church at 4.35-4.40pm to give us enough time for children to get into their costumes. Thank you for all your support!
A reminder that is is Christmas Jumper Day tomorrow (15th December) and non-uniform for £1
Children will need a labelled carrier bag before Tuesday next week (19th December). This bag will be used for children to put their school uniform in when we get 'changed' in church for the Nativity. Please, please, please label clothes!
Today we have been exploring information texts and finding their key features. We have also been making Christmas cards and reading to Mrs Molondynsky in our Pudding Lane.
Anyone still wishing to have a go at Guess the Teacher please print off the form and send in 50 pence. Answers will be given on Monday afternoon and the winners announced.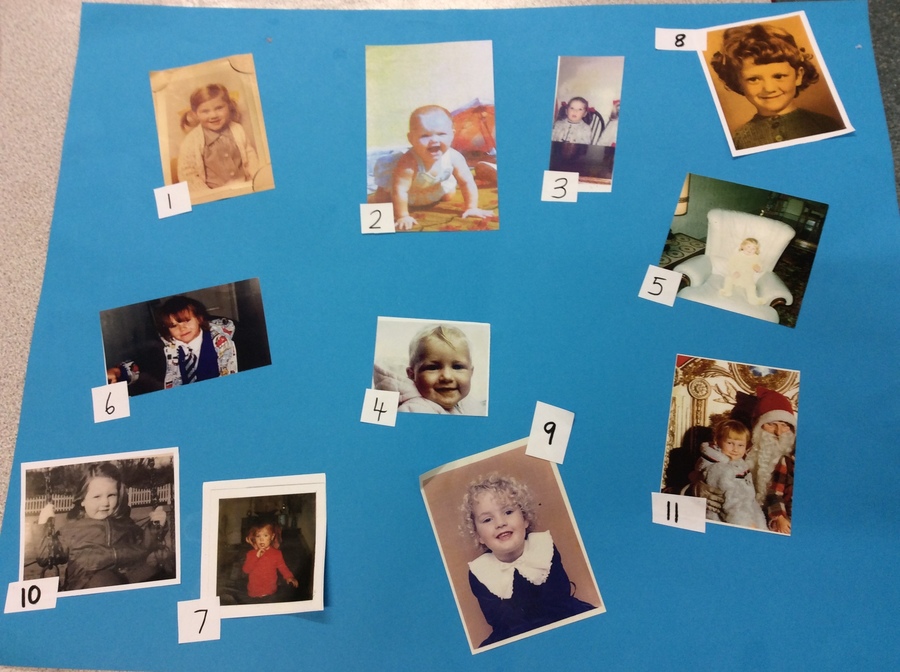 This morning Y1 have been getting 'festive'! We have been putting our decorations on the Christmas tree and making a snowman for the school Christmas fair. This afternoon we will be making Christingles with Y3 and Y5.
Please remember it is non-uniform day tomorrow (Friday 1st December) in exchange for a bottle! Also, we are collecting egg boxes in Year One ready t make an 'eco-friendly' class Christmas Tree.
We have been making a whole class advent calendar. We have been thinking of gifts we would give to a friend e.g. Mrs Mason would give Mrs Harrison a cup and saucer for a nice brew!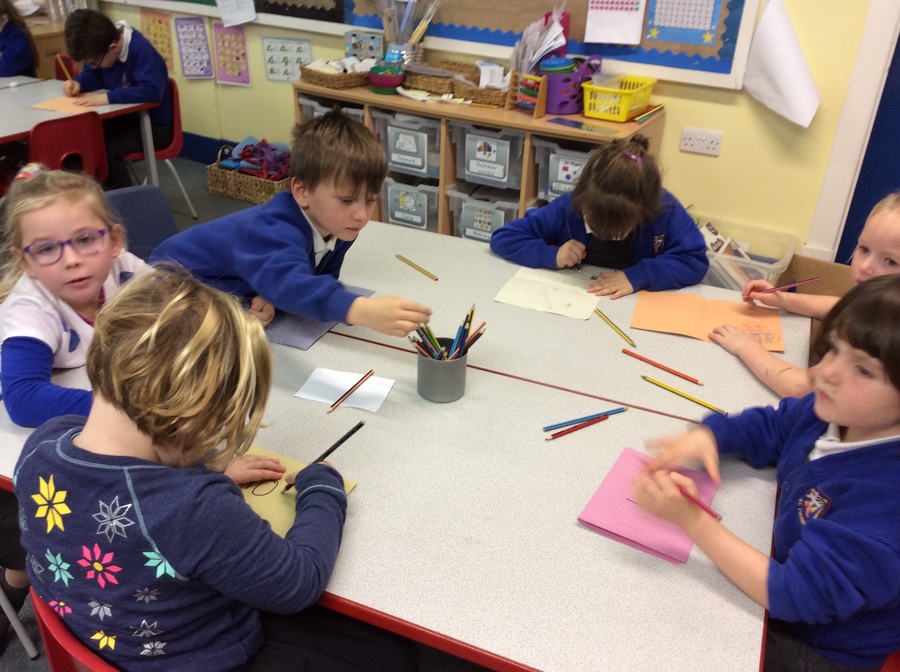 We have been busy making a snowman and a reindeer for our Christmas fair.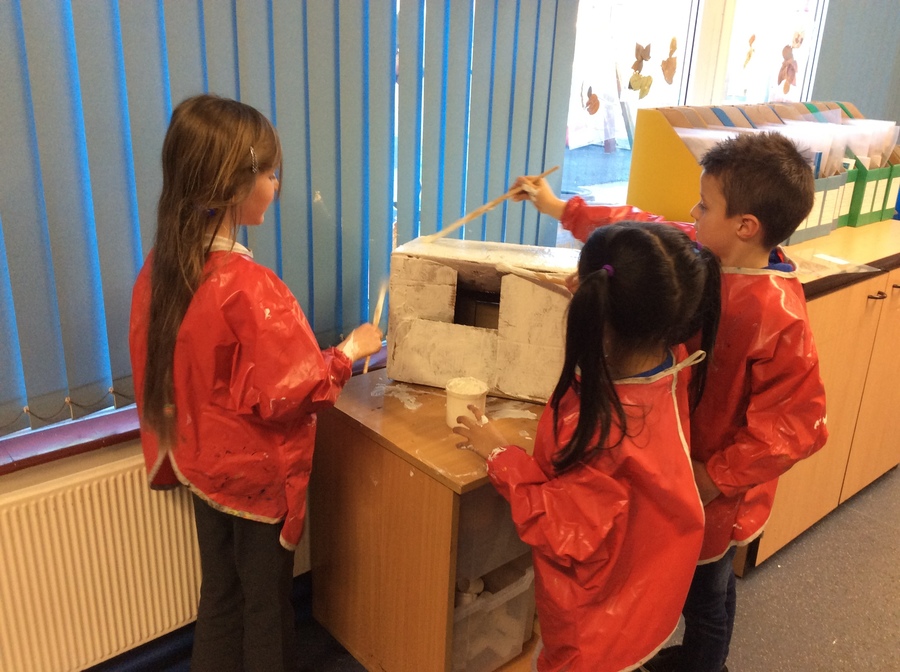 We have begun making our very own 'Pudding Lane'. We have been making decisions about size, length and shape. We have been using glue and tape for fixing. We have been designing, making and later we will improve our models.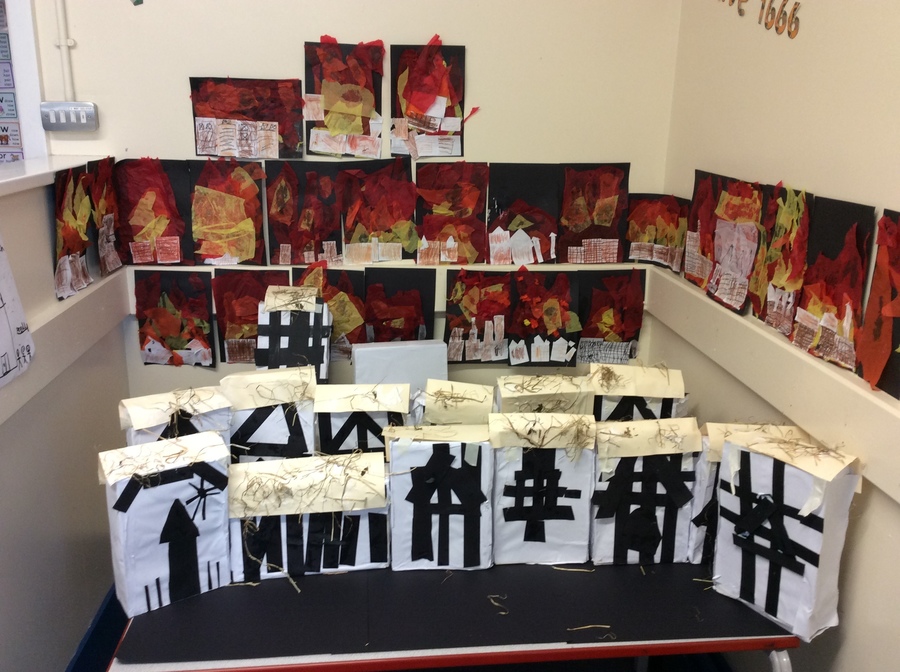 Today we have been using our phonic knowledge to blend phonemes (sounds) for reading. We have been playing buried treasure, silly sentences and the yes and no game. We have also been responding to texts using question words what, how and why?
Today we have been making some pictures of the 'Great Fire of London'. We have been tearing, layering and sticking. These pictures will be the 'background' to our very own Pudding Lane.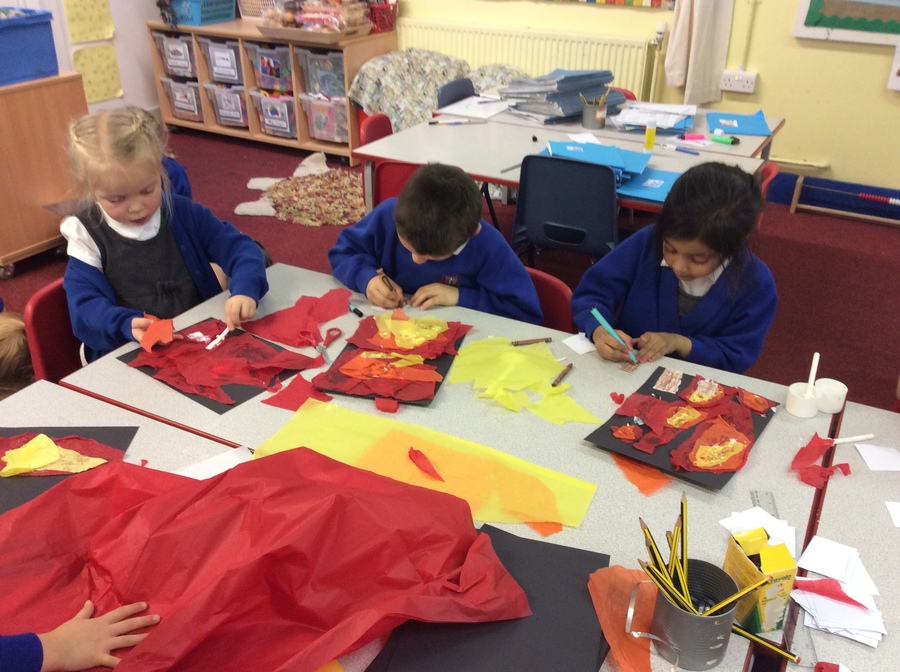 Please can parents send in an empty cereal box carefully flattened (undone)! We will be using them in our topic work 'The Great Fire of London'.
We have been practising our tall letters with chalk, water and paint brushes!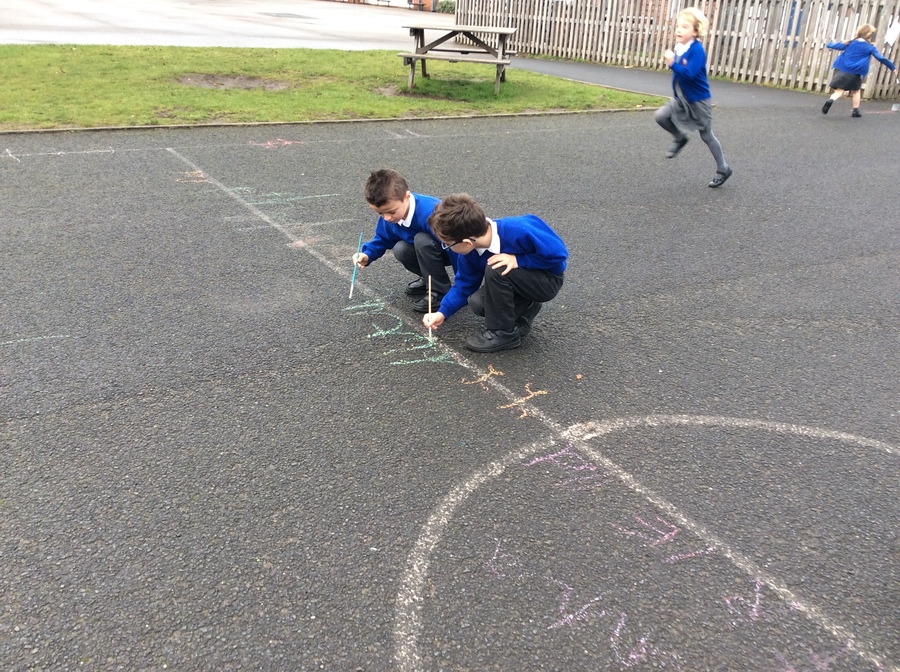 Yesterday we had a PE session with Mr Atkinson to learn all about skills in skipping, jumping, running, throwing over arm and underarm.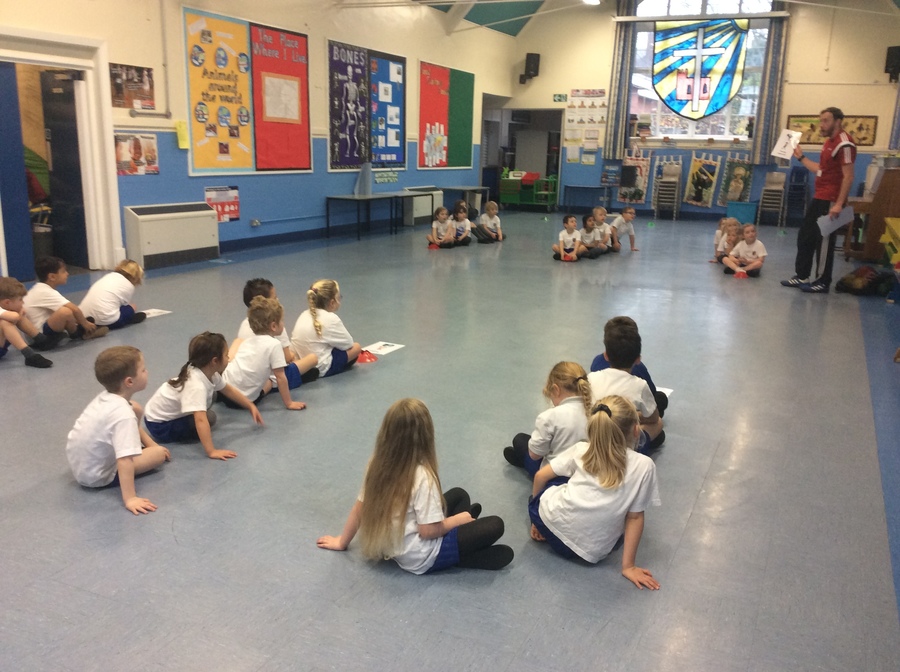 We have been finding 1/2 half!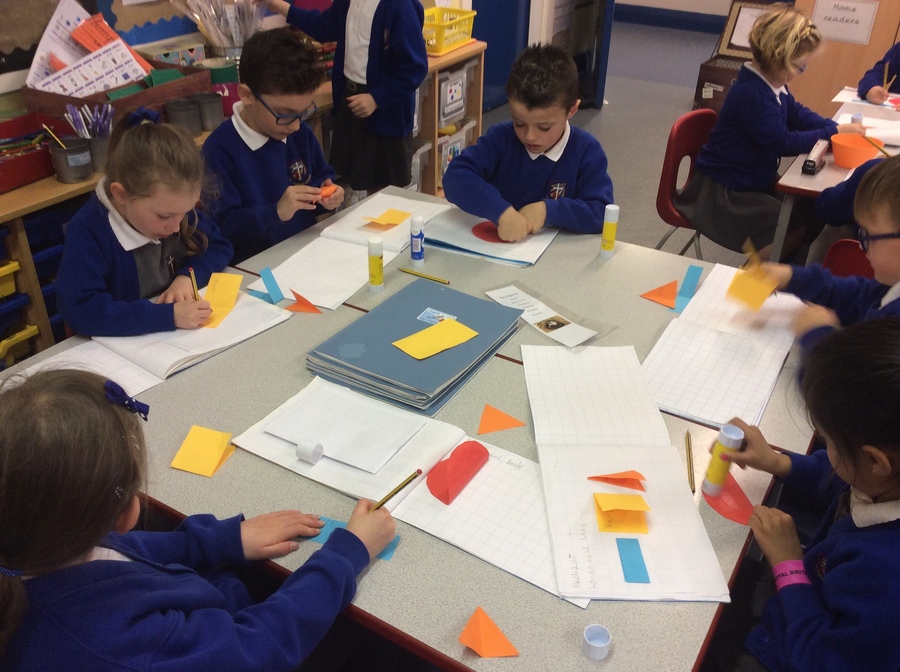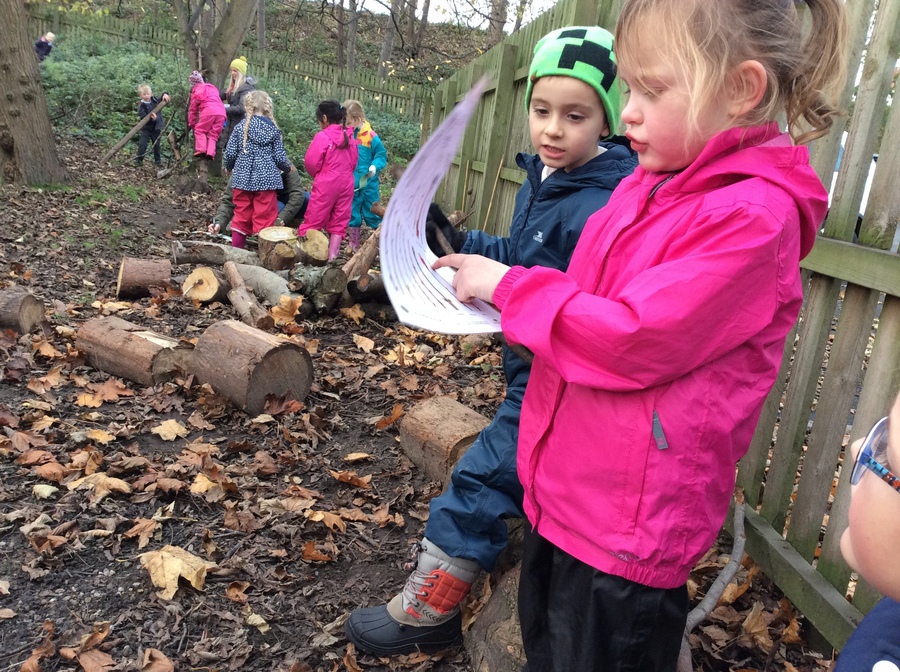 On Friday we created a drum kit using the wooden slices and sticks! Rock and roll!!!!!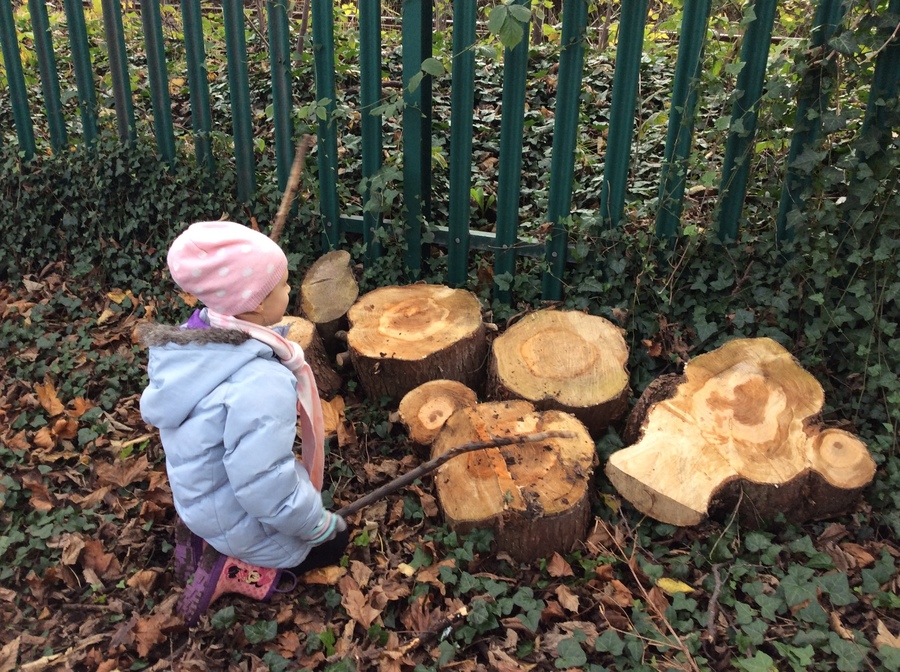 Today we have been visited by the Lancashire Fire and Rescue Service. We have looked at pictures and listening to all the amazing work they do. We have asked and answered lots of questions!
On Saturday Wesham fire station are having an open day. Children are invited to come and have a go with the hose. 10-12pm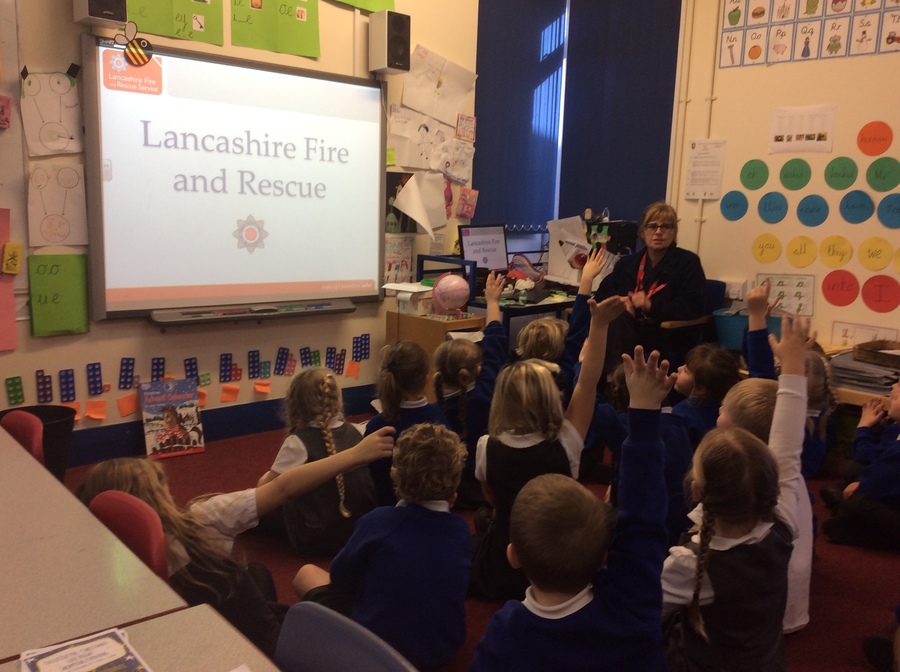 The children in Year 1 and 2 had a GREAT time during their first STEM science session! We made 3D structures using jelly beans!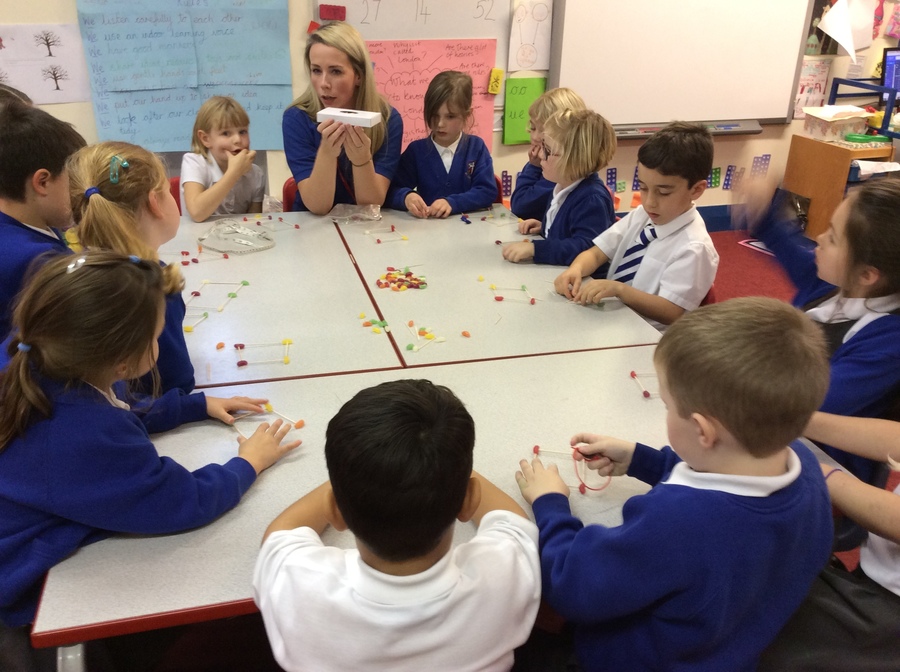 We watched a video clip from CBeebies about remembrance day and used our fingers to print our own poppy field. We lit a candle and had a thinking minute.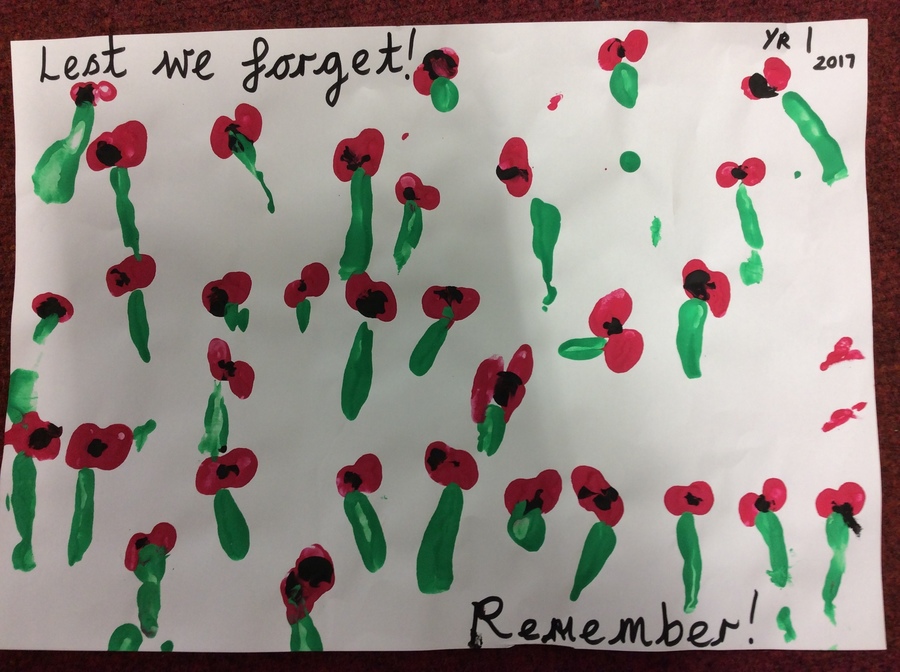 We have two members of our Eco Club in Year One! We have just received the BRONZE award!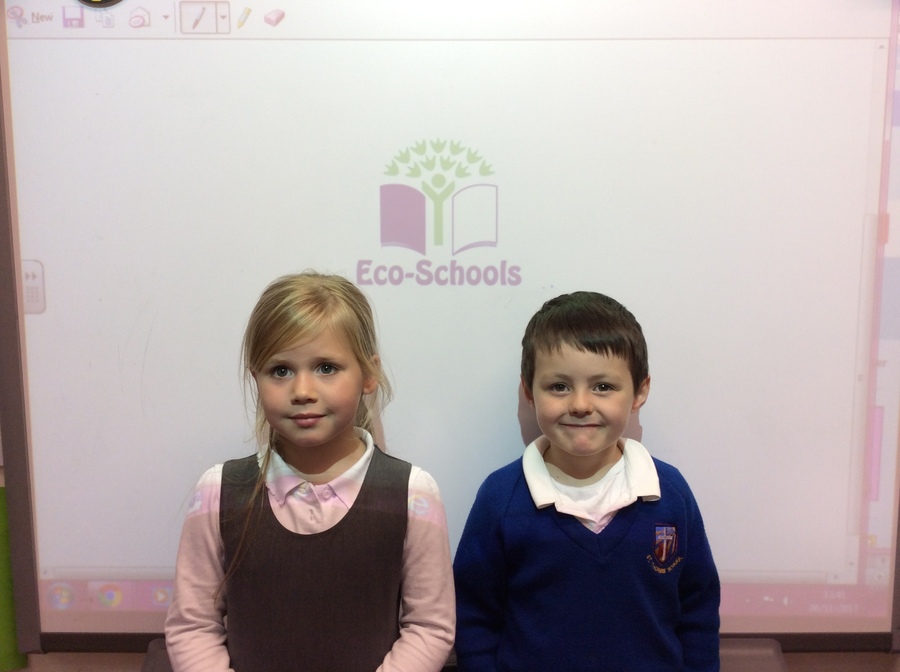 Today we have been moving like the characters from the film Toy Story. We have been moving our bodies to be Woody the cowboy, Slinky and Buzz the spaceman.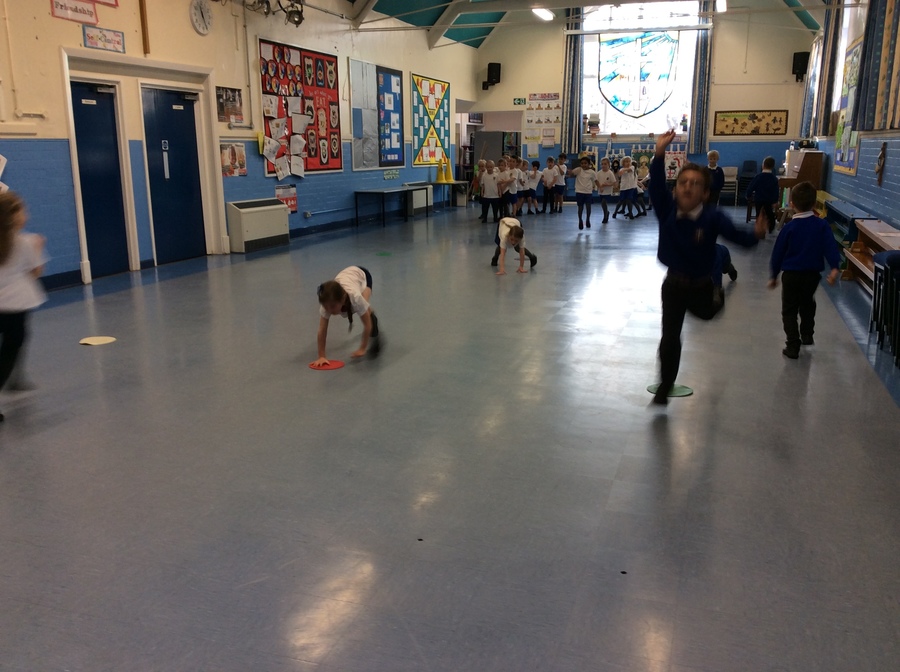 Please relax, rest and enjoy the half term holiday! I have not sent home the homework books. I think the children need a good rest. However, reading daily and practising counting ready for learning 'times tables' are two of the most valuable things you can be doing!
Thank you for a lovely first half term at St.Thomas'!
A little reminder that Forest School group one has now finished. Forest School group two will be needing their waterproofs, wellies and gloves on the first five Fridays back (10th, 17th, 24th of November,the 1st and 8th December).
P.E kits and water bottles are going home tonight (Thursday) and need to be returned on the first day back!
The children made choices about shape, colour and size before painting their penguins!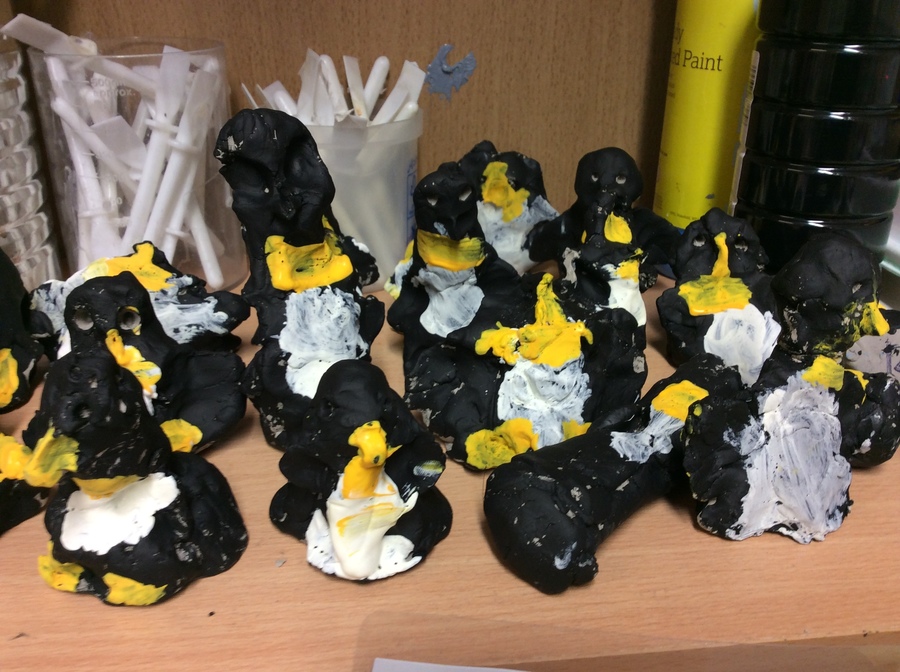 Today we have been making our own 'Earth'. We know the seven continents and where the equator is!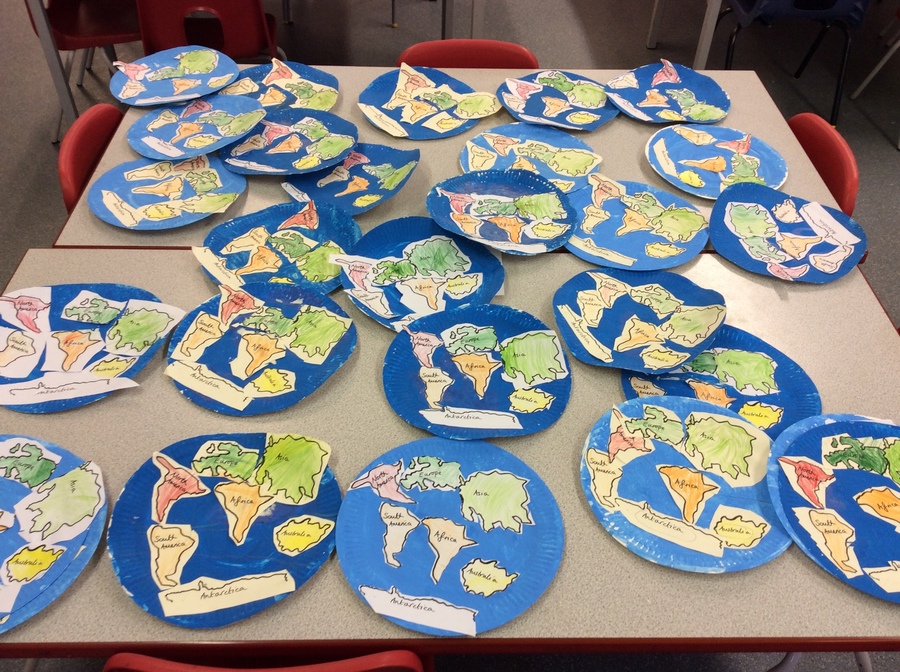 We have been designing and painting our penguins!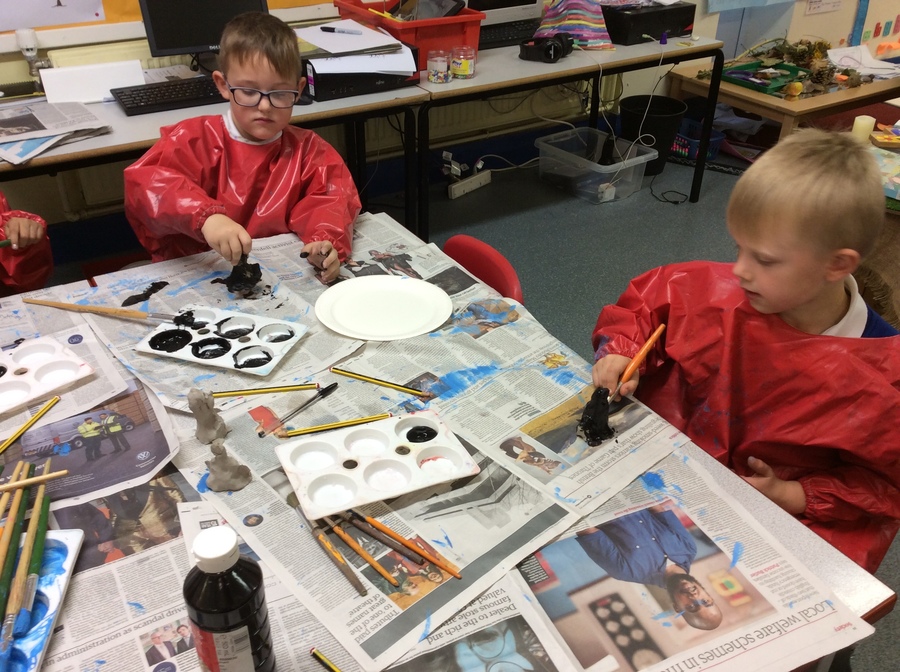 In Science we have been learning about animals. We wrote to Sir David Attenborough and asked him some questions e.g. What is your favourite animal from the South Pole? We were very excited this morning when we received his reply! Not bad for 91!!!!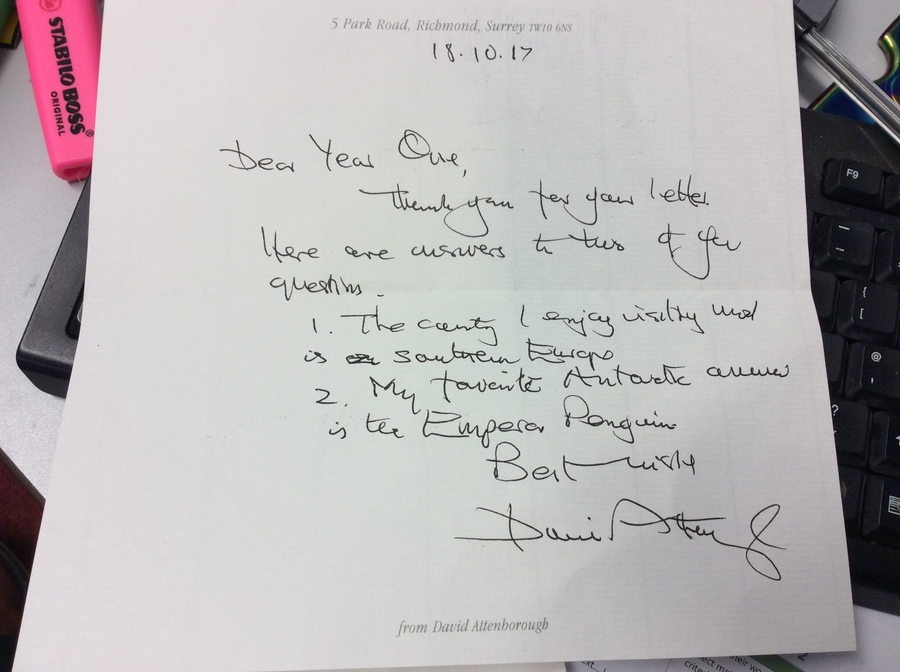 Forest School Group One! Well done , what a great team!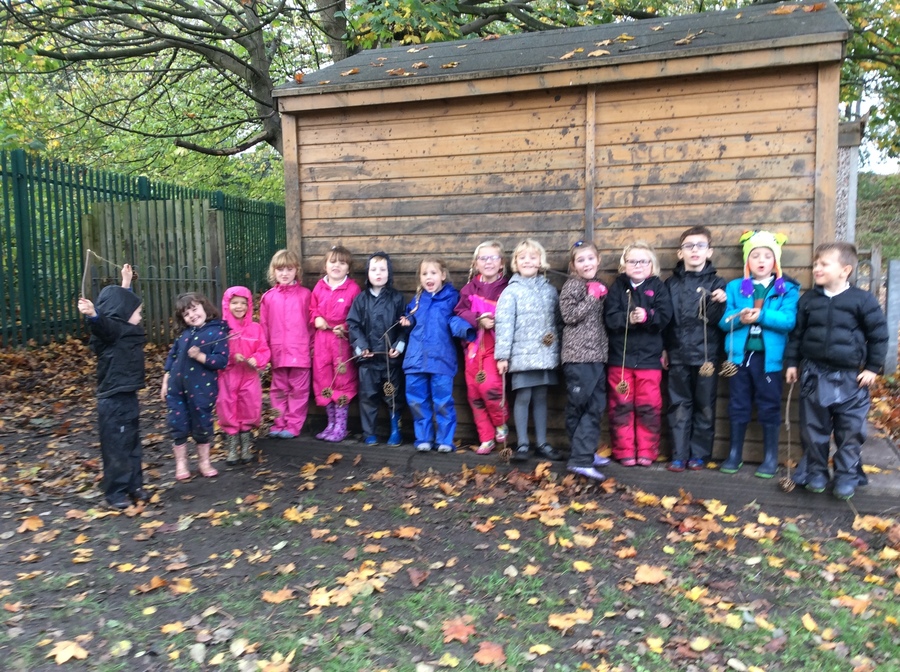 We have been writing reports all about animals in hot countries. We have been writing captions, questions and facts.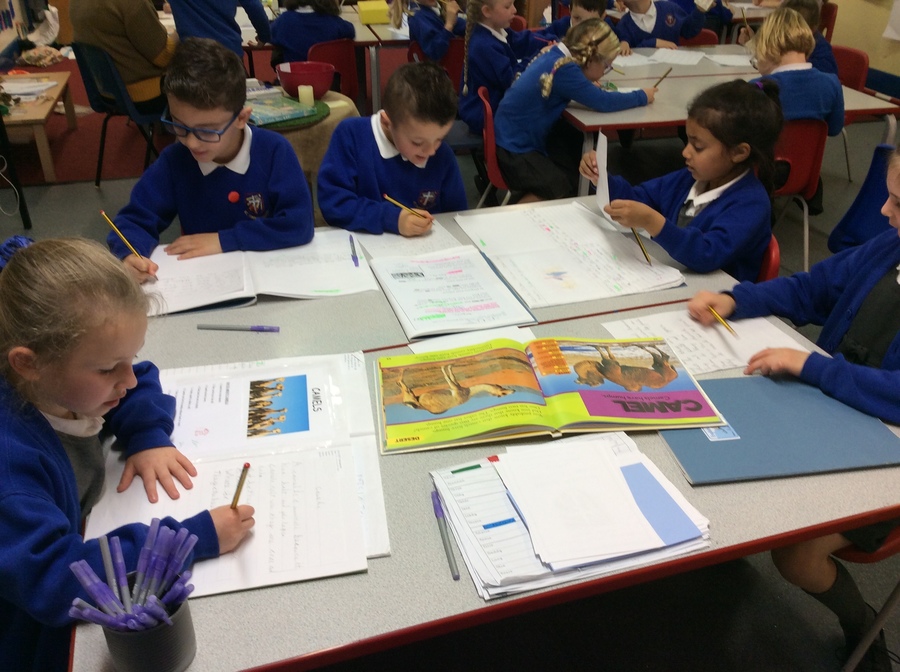 This week in Forest School we learnt how to tie a 'clove hitch' (knot). We celebrated 'National Apple Day' by toasting apples in sugar over the camp fire! We used our pine cone rods to tell a story or use our imagination. What an awesome time we've had over the last five weeks! Thank you 'Forest Group One'!
Homework needs to be handed in on a Thursday ready to be marked and a new piece sent home the following day!
Thank you to all the parents who attended the 'Reading and Phonics' workshops on Wednesday.
We have been using our senses like a wolf pack to find our family and our home!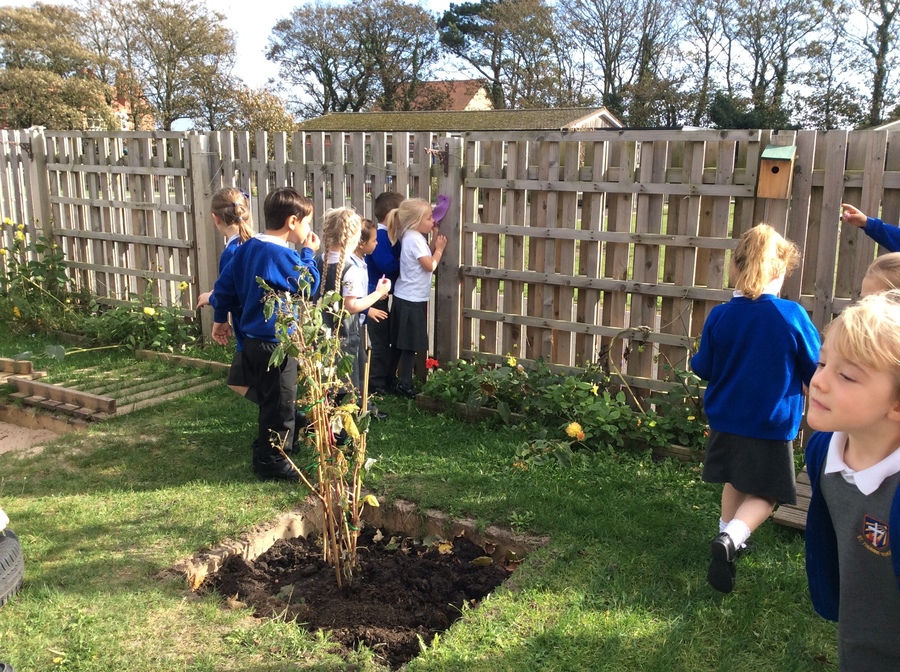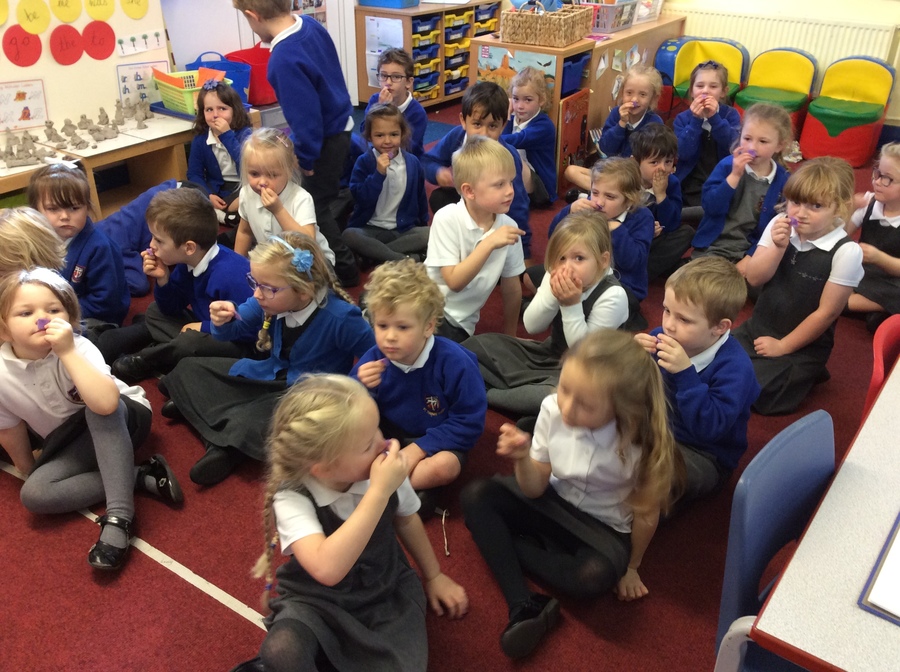 In Science we have been using Haribo to classify. Ask your child how they sorted the sweets? What questions did they ask?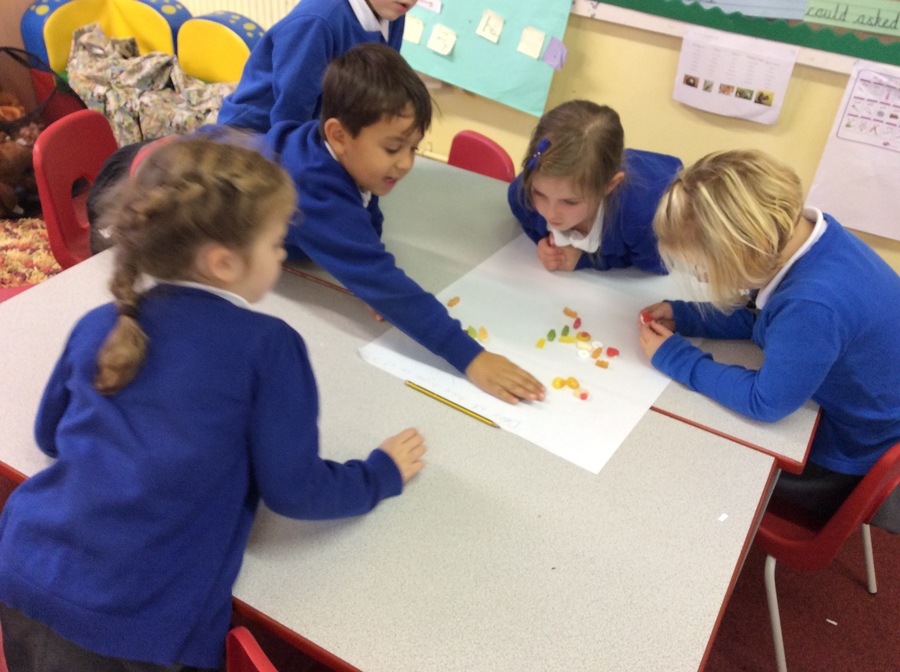 Look at our 'Leaf Creations'! Can you guess which one is a rabbit? Can you see which one is a long necked sheep? Awesome!
On Friday we made natural crowns using leaf litter! We have been painting with mud, finding spiders and climbing using a spotter! We also toasted our first marshmallow!
We have been learning how to tell a whole story using actions for story language!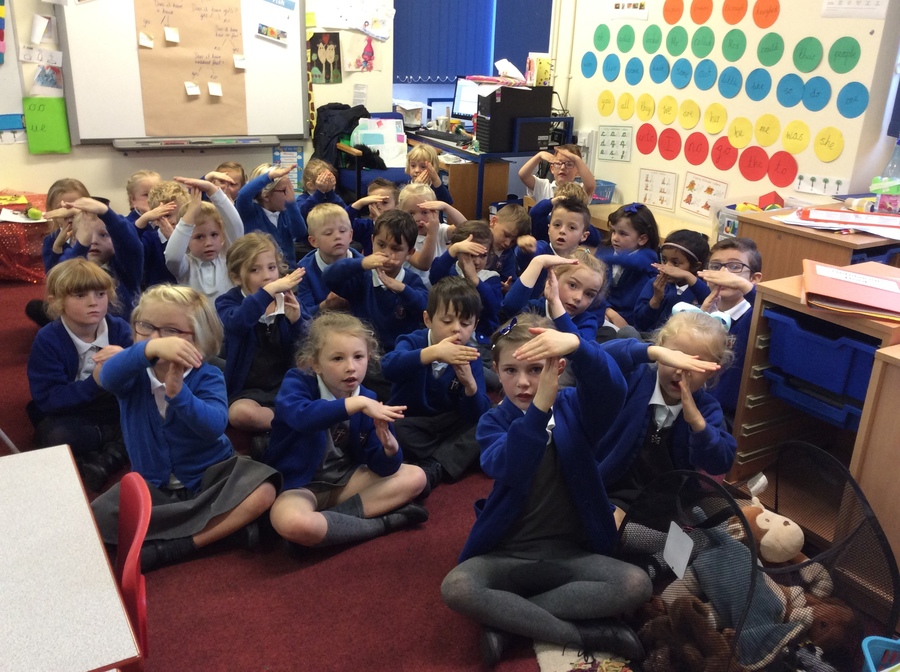 We have been using natural materials and leaf litter to create something that God made.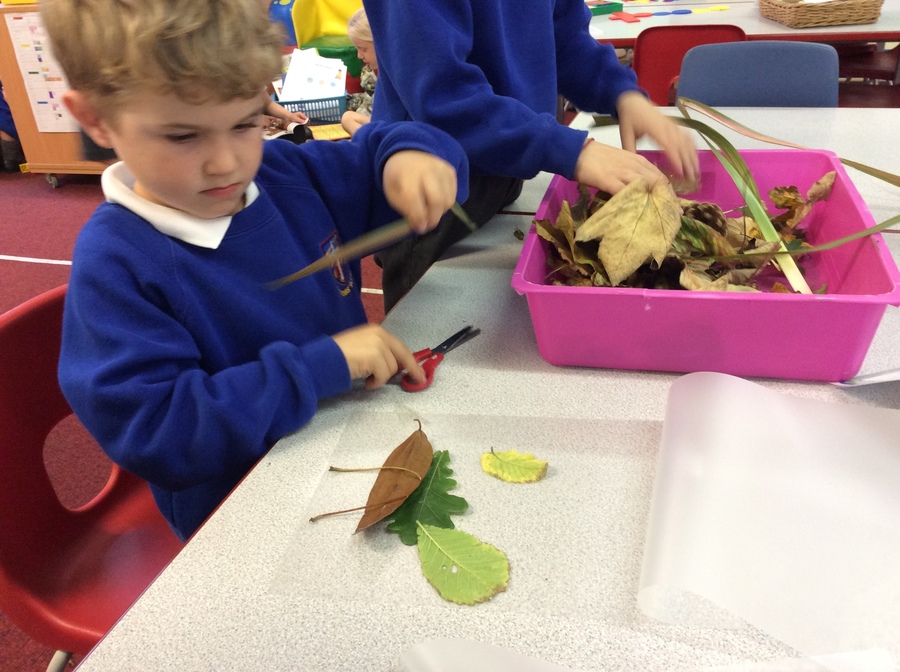 Sanjay enjoyed feeding Mr Mole some berries in Forest School. We talked about why we wouldn't feed them to Mr Fox.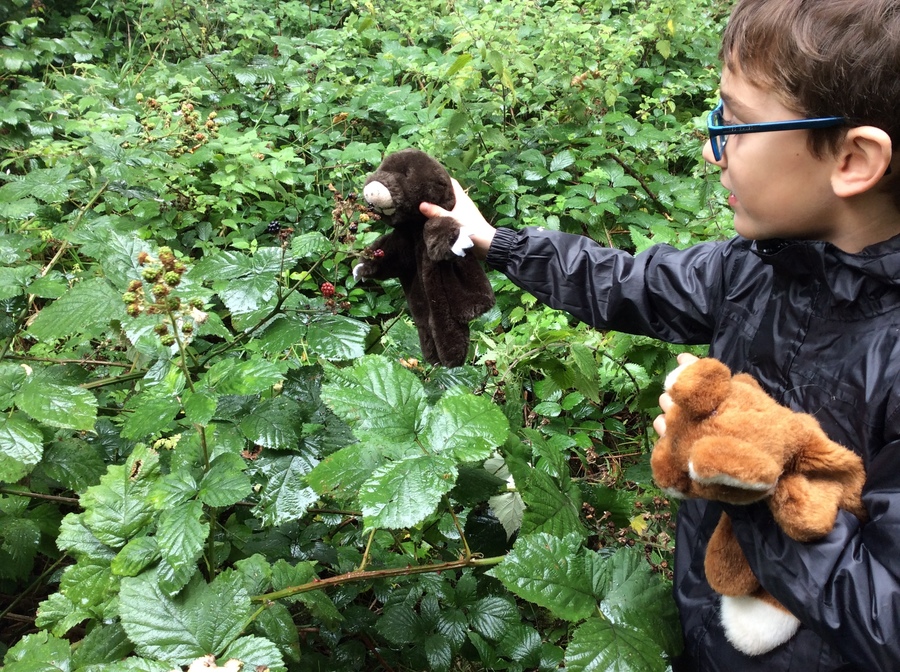 Children in Year One have been learning to spell the words below. Can you spy them in your reading books?
I go no to the into we are she are all they her
In our class we have an investigation table. This half term we are collecting items linked to Autumn. If you find or have anything interesting e.g. conkers, leaves, acorns, please send them in. Thank you
15th September This week we have been visited by a veterinary nurse and a zoo keeper. We have found out lots of facts that made us say 'wow'!
Please remember that Forest School starts on the 22nd for group one! Wellies and waterproofs are essential as we will be out in all weathers! Thank you


Welcome to Year One
Class Teacher: Mrs Corinne Mason
Teaching Assistant: Miss Nicola Cunningham Monday to Friday (AM)
Mrs Diane Greer Monday (PM)
Mrs Stones will teach PE, PHSE and RE in class on a Wednesday (AM) and Friday (PM).
Our P.E. days are Monday and Wednesday.
Reading books will be changed on a Monday, Wednesday and Friday.
Year One will be having Forest School sessions during the Autumn term, more information to follow!