Welcome to Reception
Class Teacher: Mrs Eaves
Teaching Assistant: Miss Cunningham
Teaching Assistant: Mrs Kelly
Our PE day is a Wednesday and a Thursday so please make sure your child has their PE kit in school. Thank you
Reception class had a school trip on Friday 5th May 2107 to Old Holly Farm. What a fantastic day we had, the children loved every minute as you can see from the photos!
Last term, the EYFS Team achieved the Lancashire 'Step Outside Quality Award'.
This is a one term fast track quality improvement module which has been adapted from an existing extremely successful programme in raising standards and securing outstanding practice in the early years in Lancashire schools. The work completed as part of this accreditation focuses on enhancing the outdoor learning provision for Reception children to ensure our Reception Class experience the highest quality outdoor provision.
The award programme ensures that our school:
embeds existing good EYFS practice and evidences outstanding features in the outdoors
raises outcomes for all children with particular reference to outdoor provision
enhances a climate which fosters healthy attitudes to learning and builds effective teaching strategies to ensure children develop autonomy in the outdoor environment
ensures children consistently demonstrate the characteristics of learning in the outdoors
A planting afternoon with our wonderful parents and friends.
Making bird feeders for our outdoor area.
Please click to see the stories we have read
Phonics
Reception class love their worship area
Ceejay and Rosie with Prayer Bear. Our worship table from Harvest, Christmas and stories that Jesus heard and told.
Children acting out the story of Moses in the Bulrushes.
Thank you to all the parents for their donations and joining us for a fun filled afternoon building dens to raise money for Save the Children. Together we raised £20 to help give children the things they need to grow up healthy and happy, like a safe place to shelter.
We did an experiment to see why it is so important that we wash our hands before eating.
We took 3 slices of bread, the first piece was put into a bag using tweezers without being touched. The second piece was passed around all children following play time then put into a bag and the third piece was passed around all children after they had washed their hands. Look at the results.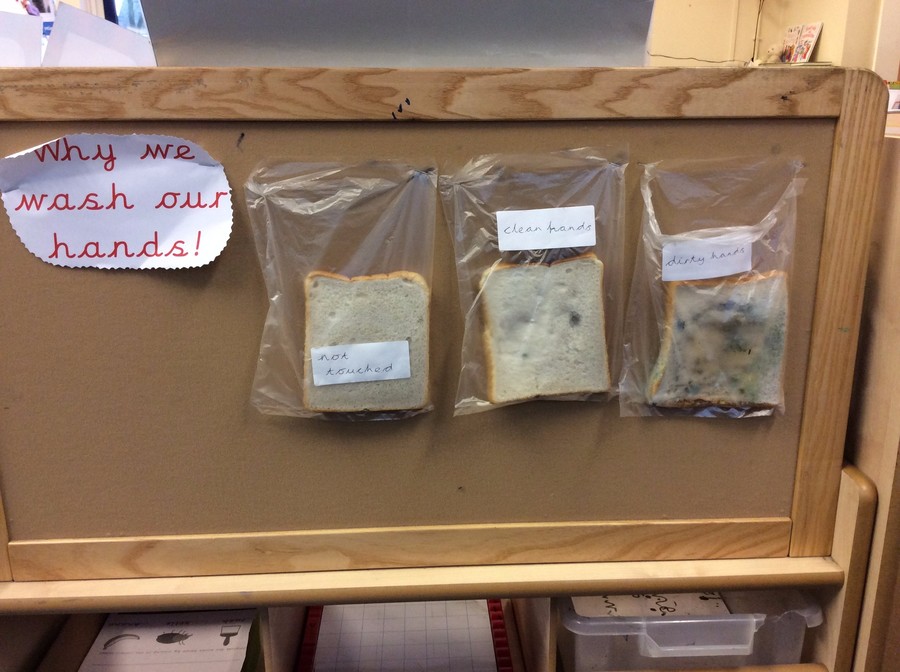 Problem Solving in Mathematics
We are scientists!
The children experimented with a range of objects to see which would float and which would sink. They had to make a prediction first and then test to see whether there prediction was correct. Then we asked 'Can we change something from a sinker to a floater?" They then placed a ball of plasticine into the water and it sank, they then moulded it into a bowl and it floated. The children learnt that when an object pushes down on a small bit of water it sinks and when the plasticine pushed down on a bigger bit of water it floated, because the water pushed up more of the plasticine.
Lots of fun was had by all!
Arctic experience
Animals frozen in ice! Brrrrr