Week beginning 19th June 2017
During this week we will be learning more about Jesus, Light of the World and also trying to understand more about the Trinity which Father Chris started to talk about last week when we looked at Rublev's Icon of the Trinity. There is a story that St. Augustine was walking on the beach contemplating the mystery of the Trinity. Then he saw a boy in front of him who had dug a hole in the sand and was going out to the sea again and again and bringing some water to pour into the hole. St. Augustine asked him, "What are you doing?" "I'm going to pour the entire ocean into this hole." "That is impossible, the whole ocean will not fit in the hole you have made" said St. Augustine. The boy replied, "And you cannot fit the Trinity in your tiny little brain." The story concludes by saying that the boy vanished because St. Augustine had been talking to an angel.
Week beginning 12th June 2017
This week we have been thinking about when things go wrong - what can we do to make them better? We thought about how we can make the world a better place on Monday - picking up, and not throwing litter; recycling; being kind to each other. We recognised that we need to care for our planet, and that we have have 'gifts' and abilities to do this by making tiny changes.
On Wednesday, Father Chris started talking to us in a foreign language...we didn't understand him! He was showing us that things break down if you don't communicate. Some children from Y5 read Genesis 11 verses 1-9 (the Tower of Babel) which showed that things go wrong and people don't understand each other when they act differently from the way God wants.
Father Chris then tell the story of Pentecost, and emphasised that the Holy Spirit helps us to live as God wants us to and breaks down the barriers between us and other people and us and God.
Children from Y3 then read Matthew 28 verses 16 to 20. Father Chris ended Worship by concluding with baptism being the start of the Holy Spirit changing us and breaking down the barriers that stop us being God's friends.
On Thursday, we thought about how we could help each other when things go wrong, and we focussed on the things that bind us together, as inspired by the Great Get Together in remembrance of Jo Cox: "Jo believed in a better world and she fought for it every day of her life with an energy, and a zest for life that would exhaust most people." – Brendan Cox, Jo's husband
Week beginning 22nd May 2017
This week Peter Watson from St Thomas' Church came to visit us. He spoke to us about the Ascension - which can be a bit difficult to understand, But, with pictures and comparisons to Star Trek (ask the children!) we now have a much better understanding of what happened during this time, and why it happened - we know that we are never alone because the Holy Spirit lives in our hearts.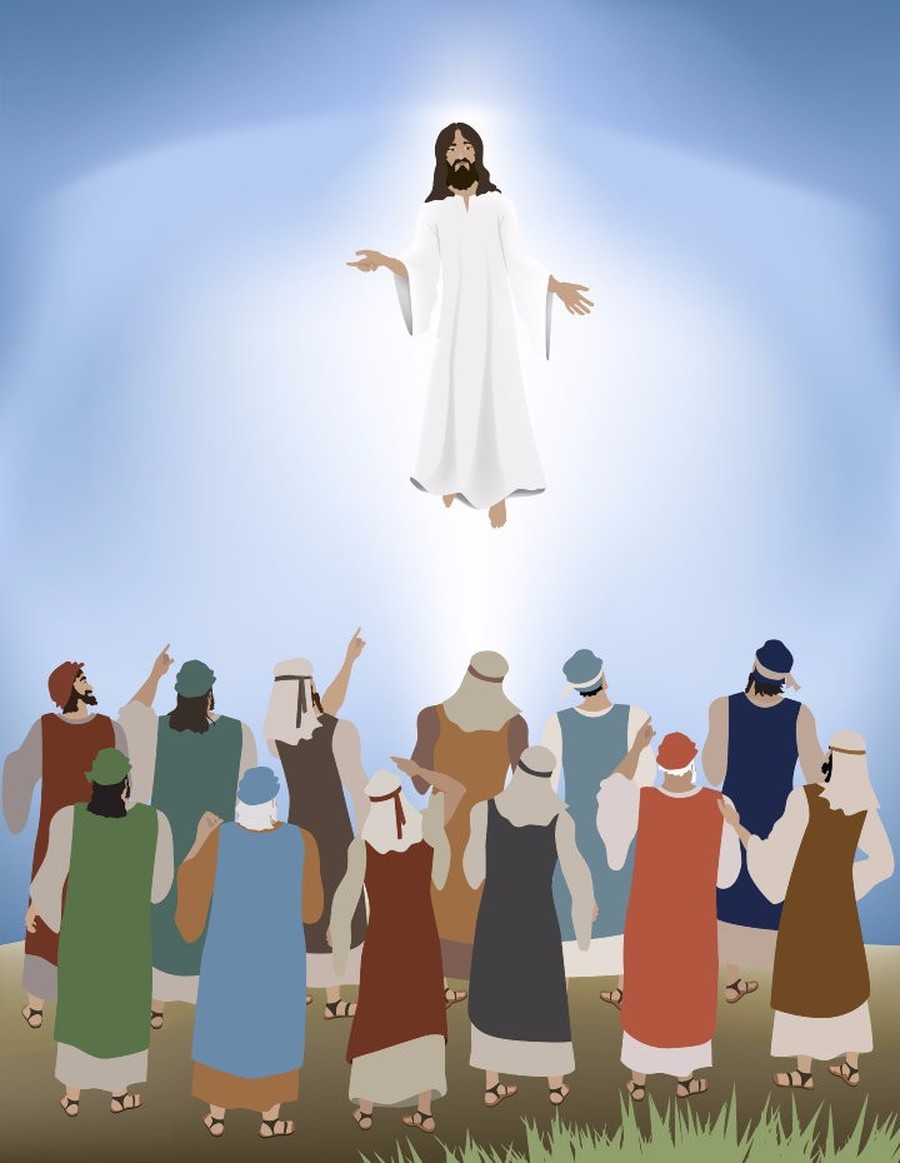 Week beginning 15th May 2017
Our theme this week is 'Happiness' and we thought about all the little things that make us happy - being with friends and family; the smell of freshly baked bread, or freshly cut grass; sleeping in a freshly made bed; rainbows; chocolate! What makes you happy? We talked about all the things we are thankful to God for - the little things and the big things. We talked about how the happiness of other people is just as important as our own happiness we decided to pass smiles around and try to make everyone happy, even if they were feeling a little sad.and so
For the Scriptures say, "If you want to enjoy life and see many happy days, keep your tongue from speaking evil and your lips from telling lies."
1 Peter 3:10
On Wednesday Elizabeth O'Connor from St Thomas' Church led Worship for us. She linked to our theme of 'Happiness' and how we could show our appreciation to God by praying and giving thanks. She spoke to us about The Lord's Prayer and how to pray and what the words of the Lord's Prayer mean. Some of the children from Y6 read the following:
Pray then like this:
"Our Father in heaven,
hallowed be your name.
Your kingdom come,
your will be done,
on earth as it is in heaven.
Give us this day our daily bread,
and forgive us our debts,
as we also have forgiven our debtors.
And lead us not into temptation,
but deliver us from evil.
Matthew 6: 9-13 ESV
Week beginning 1st May 2017 & 8th May 2017
Over these 2 weeks we have been reflecting on the parable of the prodigal son, and thinking about times when we ourselves may have said or done something that we later regretted. We thought about how we may react in certain situations and that our actions have the ability to make a bad situation better, or it can make things worse. We tried to imagine the world where everyone holds grudges and refuses to forgive; where everyone refuses to ask for forgiveness; where no one ever said sorry. This made us all quite sad and made us think about how we will act next time we, or someone else, makes a mistake.
Week beginning 24th April 2017
This week we have been thinking about the consequences of our actions and the choices we have after we make a mistake. We talked about the following Proverb:
"Anything you say to the wise will make them wiser. Whatever you tell the righteous will add to their knowledge."
Proverb 9:9 (GNB)
We thought about our own mistakes and if we had learned from them, and also learning from other's mistakes. We talked about the story of the Hare and the Tortoise and mistakes the Hare had made. We then thought about real-life events that had happened including the tragedy of the Titanic and lessons that had been learned from this to prevent such an awful event occurring again. We recognised that we are thankful for the experiences of others and the lessons we can learn from them to help us make the right choices.
Week beginning 3rd April 2017
Easter
This year we are very excited that members of St Thomas'Church invited all children from school to 'Experience Easter on Friday 7th April. This is an imaginative approach to help children experience Easter through six interactive stations set up in different parts of the church. The Church will be open on Saturday 8th April over the Easter weekend to enable families and other members of the congregation to experience the event. This experience was so well received that the Church and school are already looking to repeat the 'experience' on a rota basis annually.
"That was the most exciting experience of the Easter story, ever!" – Y5 pupil
Week beginning 27th March 2017
"So whatever you wish that others would do to you, do also to them"
Matthew 7:12
This week we have been learning about how to treat, and respect, others. We talked about the how simple the above message is, and how even in times of trouble, people can still be found treating others how they would want to be treated. We thought particularly about the people who had been involved in the atrocity in London last week, and how strangers were seen helping each other even though they must have been incredibly scared. Our aim for this week is to try to live according to what Jesus taught us, and try to recognise that if people are upset/angry/grumpy etc that there may be a way we can help them.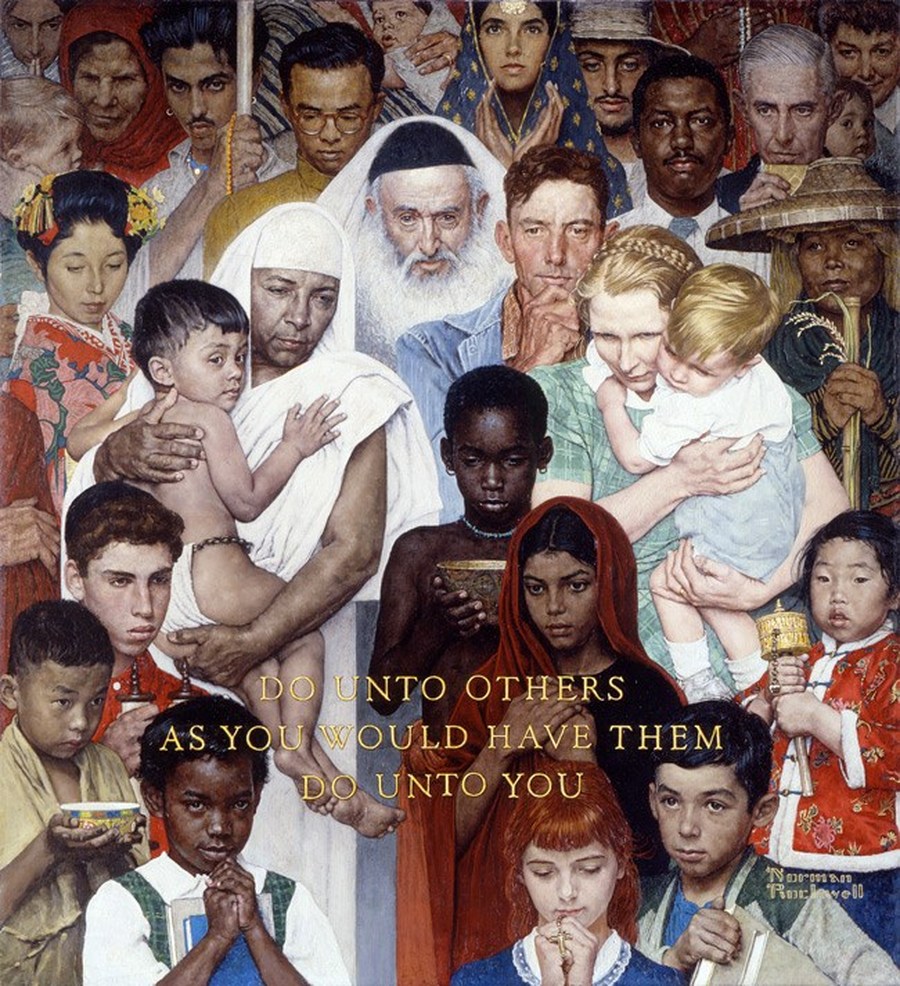 Week beginning 20th March 2017 - Jack in the Box Worship
Jack The Puppet Puppy joined our school this week. He will be looked after by Year 6 and each week he will lead a willing group of Y6 children to Reception Class where they will teach the younger children prayers and stories from the Bible. Year 6 are very keen to do this - when Mrs Gilmour asked for a small group of volunteers to be in the Worship Group, the whole class volunteered! Members of this group will also be involved in Puppet Praise at least once each half-term.
Week beginning 13th March 2017
"Be strong and courageous; do not be frightened or dismayed, for the Lord your God is with you wherever you go."
Joshua 1.9
Courage: this week we have been thinking about the story of Esther and how she showed courage and bravery. We learnt about how the Jewish religion still celebrate this story every year through the festival of Purim. We found out that during this celebration, a lot of noise can be made to scare away Haman.
We made our own noise this week by learning a new song called 'Sing It to Him', and children from St Thomas' showed their own bravery and courage by competing in netball, football and rugby competitions - see our newsletter to find out how they got on. Our choir also showed courage by participating in the regional Last Choir Singing competition. Watch the videos below to see and hear how amazingly well they did.
Week beginning 6th March 2017
This week started with our Celebration Worship, sharing all our learning from World Faiths Week. It was lovely to be joined by so many parents. On Wednesday, Father Chris talked about fairness and retold the story of the prodigal son. The children had lots of opinions on this story which were great to hear.
Week beginning 27th February 2017
This week we have been thinking about Lent and the skill of waiting. We thought about Jesus going into the wilderness for forty days without food. Some people 'fast' during Lent and this reminds them of Jesus in the wilderness, and also to be thankful for what they have whilst at the same time reminding them that others in the UK and around the world do not have enough food to eat. On Wednesday, the whole school went to Church and were joined by some parents for the Ash Wednesday Service, led by Father Chris.
World Faith Week
This week also saw us celebrate World Faiths Week, and we combined this with World Book Day when the whole school dressed up as someone or something from the Bible. Look at the photos on the class pages and see if you can guess who we were dressed as! Each class was given a particular focus such as prayer, places of worship, sacred books, baptism, pilgrimage or harvest and looked at these in greater depth across the world's religions.
Week beginning 20th February 2017
At the start of this new half term we have been thinking about our goals and achievements. We remembered the story of Noah who was given a very big task by God to build an ark. We thought about the size of the ark and how long it took Noah to complete this task. He never gave up, completing it one bit at a time. We thought about our own goals and tasks and realised they too can all be broken down into smaller bits that are easier to achieve.
"A journey of a thousand miles begins with a single step." Lao-tzu
Week beginning 30th January 2017
Unique You! This week we have been learning about difference and celebrating that which is common to us all: equality, love, respect and tolerance. We looked at our own similarities and differences, and then went on to think about the six nation's rugby tournament - all fans are unified by the one game yet cheer enthusiastically for their team to win; each person plays a different position but all with the same aim. Our differences and talents can help the life of the people around us. In the Bible, St. Paul imagines the people who make up the church to be like a body. He said that just as a body is made up of different parts, so a community is made of different people with different talents. A community needs difference like a body needs various parts.
...
Week beginning 23rd January 2017
This week we are thinking about resilience and perseverance. We have included 'Perseverance' as one of our Gospel Values this year - it underpins all of what we do. But why? Perseverance is continuing to try to do something even if we find it hard, or fail at first. We recognised that we are all born with the ability to be resilient and to persevere - we thought about babies learning to walk and talk. We also wondered how many adults had kept trying after failing their first driving test! We found out that after JK Rowling had written the first Harry Potter book she was rejected by twelve publishers before it was finally given a chance.
Even spiders show resilience and perseverance - we watched a video about Robert The Bruce and the Spider.
The saying goes 'if at first you don't succeed try and try again'. St Paul writes in the Bible 'So let us not become tired of doing good; for if we do not give up, the time will come when we will reap the harvest' (Galatians 6:9). Both St Paul and JK Rowling know that success comes from trying and trying again. What have you kept working hard towards? What do you need to keep working hard at.
Week beginning 16th January 2017
Is it fair? It's not fair! This week we have been thinking about fairness and how we interpret different things. We have been finding out about Joseph and his brothers. Joseph was given a special coat by his dad which he though made him special and he started to boast. The brothers, however, didn't like this and though it wasn't fair at all. The brothers sold Joseph to the Ishmaelites, who then sold Joseph to Potiphar - and then Joseph ended up in jail! We thought about times when we've said 'It's not fair!' - maybe when it's bedtime and we think we should stay up later; maybe when we wanted another packet of sweets. All actions have consequences and it is important that we think before we act.
Week beginning 9th January 2017
What are you good at? This week we have been thinking about talents - things that we are naturally good at. Some of us are naturally good at maths or reading, some of us are good listeners and some of us are good talkers! Caring and being kind is also a talent.
In ancient Roman and Greek times, the word 'talent' was used to refer to weighing money on a balance. A 'talent' was the largest measurement of weight that was used in the Bible. We watched the Parable of the Talents, and while this does talk about money, it also makes us think about what we do with the things we have been given - we must be resilient in order to grow our talent.
Christmas Carol Service 12th December 2016, St Thomas' Church
Thank you to everyone who came to the Carol Service last night. It was a lovely event, and the children did a fantastic job of retelling the Christmas story. We sang carols new and old and the children shared the prayers that they had written.
As promised, here is the 12 Days of Christmas (St Thomas' style!) for you to enjoy again...
Week beginning 12th December 2016
Do you have a Christmas Elf that lives in your house during December and causes lots of chaos? Do you have a family Christmas Eve Box with lots of goodies and new pyjamas? This week we are thinking about different Christmas traditions. There are some that most of us have, but also some that are special to our own families. Traditions are a way of connecting people today with communities from the past and a way of ensuring that we remember and celebrate the same values.
Week beginning 5th December 2016
What does light mean to you? That's the question that we started to answer in Worship this week. We talked about the candles in the Christingles, which we lit in Church on Sunday, representing Jesus Christ as Light of the World. We thought about other celebrations around the world that celebrate light, including Diwali and Hanukkah - some of these are being studied in more detail in class this week.
As we listened to the story about the Jewish Hanukkah menorah, we thought again about the question 'What does light mean to you?' and how not only does light enable us to see, but it also brings happiness, comfort and safety.
Week beginning 28th November 2016
The first candle of the Advent Wreath was lit in Worship this week. We thought about advent meaning the 'arrival' of something or someone important and so the season of advent helps Christians to think about the 'arrival' of Jesus on Christmas Day.
Year 3 enjoyed learning more about Advent and made an Advent Wreath
We talked a lot about being excited about Christmas and the presents we hoped to get and what a busy time Christmas is! The children enjoyed retelling the Christmas Story, and reflecting that Jesus was, and still is, a present to us all.
Please click below to listen to the children sing 'Christmas is a Time to Love'
Week beginning 21st November 2016
This week we have been thinking about Teamwork in Worship. How many different teams are you in? On Monday we looked at how we can achieve more as part of a team - including being louder! We thought about the different teams we are in, and how if someone is missing it has a big impact on the rest of the team. We then watched a short video about the Lost Sheep - even though the shepherd still had 99 of his sheep, it wasn't the same without the missing one and so the shepherd went to search for him.
Watch the video here
Week beginning 14th November 2016
Our theme this week in Worship has been Friendship. We have thought about the qualities needed to be a good friend and also some of the difficulties involved in being a good friend - for instance having to be truthful and honest when it may be difficult to hear. In class we have also been doing lots of friendship activities, including mindfulness and making friendship bracelets.
Therefore encourage one another and build one another up, just as you are doing
1 Thessalonians 5:11
Week beginning 7th November 2016
Our theme this week in Worship has been Remembrance. We have thought about the importance of remembering the past, whether it be good or bad, as it can help us make good choices in the future. We spent time thinking about those who had died in battle, and we prayed for peace around the world.
"I leave you peace. My peace I give you. I do not give it to you as the world does. So don't let your hearts be troubled. Don't be afraid."
John 14:27 International Children's Bible (ICB)
Please click below to listen to the children sing 'Peace I Give to You'
Thank Your Vicar Week
Each class spent time thinking about the work Father Chris does in the community. We asked him lots of questions! We then spent time writing poems, and making cards and gifts. Father Chris will be displaying his gifts in Church - please go and have a look.
Bishop's Bible Challenge
This year, we are pleased to announce that all KS2 children are taking part in the Bishop's Bible Challenge.
Click here to find out more about this initiative to get more young people reading the Bible.